How to choose this product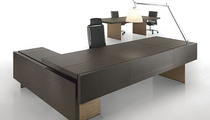 An executive office desk is often a standalone piece, in contrast to a standard desk, which is sometimes designed to be part of an ensemble. Its name implies use by someone in a hierarchically important position. Thus, it is often larger and of superior than other furniture. On ArchiExpo, these items are arranged by style or material.
Applications
Common in commercial or public offices, such desks are also used in domestic settings, especially by those running a business from home. Many traditional executive desks incorporate shelves and/or drawers. Its configuration and placement may allow another person (visitor, client) to sit on the other side of the desk. There is sometimes a front panel to keep the second person from approaching too closely.
How to choose
When choosing, consider whether the desk will be for public or private use. It should comply with applicable regulations. Other factors include sturdiness, maintenance requirements and the need for storage space or other features.

Style may complement or contrast with existing decor. A streamlined unit may fit well in a minimalist setting. An organic design may occupy more space, but also can create a striking focal point. Consider intended use, including administrative tasks and the need for computer or multimedia equipment, as well as the possibility of more than one person using the desk at the same time.