Extendable beds
How to choose this product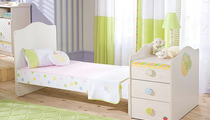 An extendable bed is one that "evolves" as the infant grows and develops.
Applications
Such furniture is found in infant's and children's rooms.
Technologies
This type of bed has a modular structure of varying configuration. For example, if a sliding element is used to make it longer, the mattress should be modular, formed of two or three pieces which can be laid end-to-end. The bed also may have removable bars or barriers, which allows the child to get out of bed without help, especially after toilet training.
How to choose
The child's age will determine bed choice. A baby less than two years old should have a crib, perhaps with a changing table at one end, allowing the unit to be transformed into a child's bed. For older children, a bed without bars which can be extended by sliding as the child grows is a better choice. Particular attention should be paid to the quality of the mattress if it comes with the bed. Aesthetic criteria include, color, motif, configuration, the child's sex and room decor.
Advantages
- Adapts to a growing child
- Avoids buying two beds in succession
Disadvantages
- Mattress comfort can be less than ideal
6 companies | 48 architectural and design products
1 products MAP ARREDAMENTI
Filter by :
› New products

(21)

› Products with video

(4)
Extend the search
Search by manufacturer
Search by catalog