How to choose this product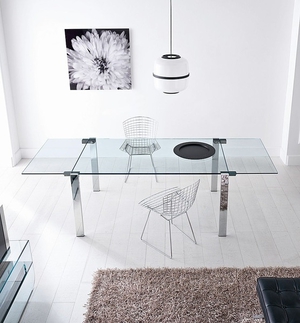 An extending table is a great way of economising space in small areas. It can be extended when a large table is needed and retracted when not in use, freeing space for other activities. While some tables may have fold out panels, others may have central panels hidden underneath, which pull out. Some tables may even have a telescopic extension and feet which can be displaced to support the extension.

On ArchiExpo, an extending table may be arranged by properties including style, material and shape.
Applications
An extendible table may be used for indoor or outdoor areas, in both domestic or commercial spaces.

While an extending table is often very practical for dining spaces (for receiving a large number of guests), it may also be useful for office work spaces.
How to choose
When choosing an extendible table, be sure that the table can fit comfortably in the space when fully extended. Consider how easy it is to extend and how often it will be extended. While tables with fold out panels may be considered easy to manipulate, some tables do not have the extra panels integrated into the table, but stored separately.

Ensure that the joins of the extendible table are flush, and avoid materials with poor mechanical properties (e.g. the fixings and joints of particle boards may degrade more easily than solid wood or plywood). Check that the table is suitable for its purpose. If the table is destined for outdoor use, make sure that it is weather and corrosion resistant. Consider how much maintenance is required and how robust the table is.

Consider whether the style of table complements or contrasts with its surroundings, and whether matching furniture (such as chairs) will be necessary.