How to choose this product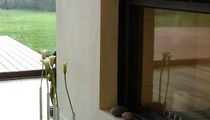 Exterior plaster is applied to hide cracks and imperfections so as to protect a surface. Decorative exterior plasters can add color, texture or a particular finish, including imitation wood, natural stone and metal.
Applications
Its strength and weather resistance allow this type of plaster to be used to smooth, protect or decorate surfaces exposed to UV rays, rain and humidity.
Technologies
Such products are usually made of natural plasters, concrete, plant fibers, glass particles or lime.
How to choose
Consider the nature of the surface to be covered (concrete, brick, stone) and the plaster's function: smoothing the surface, protecting it and/or decorating it. Determine appropriate colors and finishes for decorative plasters.