How to choose this product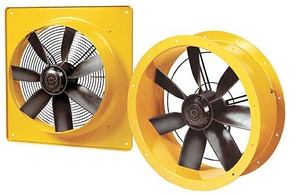 A fan is used to heat or cool air, to regulate its humidity and to circulate it within a closed space via air conditioning, a fan-coil unit or other system. It also may be used for simple interior ventilation. ArchiExpo offers a large choice of fan-coil units, exhaust fans, centrifugal and helicoidal fans, vent fans and air conditioners.
Applications
Such devices are used to increase the comfort of the occupants of all types of building.
Technologies
There are both single-flow and double-flow controlled mechanical ventilation (CMV) systems. In the former, air enters the structure naturally and is expelled by exhaust fans. Double-flow arrangements use both intake and exhaust fans, resulting in mechanical introduction and exhaust. It is possible to recover heat from the air with a double-flow CMV system.
Advantages
- Comfort
- Temperature and humidity control