Fiber optics lamps
How to choose this product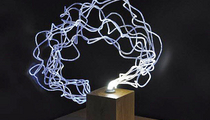 The introduction of fiber optic technology in lighting represents a turning point in the domain, and has enabled the creation of systems unimaginable just a few years ago. Its characteristics offer a wealth of options.
Applications
Such lighting has several advantages over other types. The flexibility of the cables makes it possible to create highly elaborate systems. In addition, it is very safe, since the fibers carry neither gas nor electricity and generate no heat.

Systems can be installed in areas exposed to inclement weather, heat and humidity, and require no particular maintenance. Furthermore, fiber optics can be used to create striking decorative and dramatic effects.
Technologies
This illumination consists of a light source, an illuminator, a fiber optic cable, a transformer, a silent fan and several fastening devices. The cable contains a bundle of glass or synthetic optical fibers, its ends fitted with one of several types of connector.
Advantages
- Great flexibility
- Extended working life
- Sturdy and safe
- Significant bandwidth
Disadvantages
- Connectors are expensive
13 companies | 65 architectural and design products
2 products Semeur d'étoiles
2 products BRUMBERG Leuchten
1 products L&L Luce & Light
Decorative fiber optic lighting
L&L Luce & Light
Advantages: Smaller size. Shorter fibres. Easy installation. Average LED operating life is about 50,000 hours of continual use (traditional halogen lamps have an operating life of 4,000-5,000 hours)....
2 products Certikin International
Filter by :
› New products

(1)

› Products with video

(4)
Extend the search
Search by manufacturer
Search by catalog