How to choose this product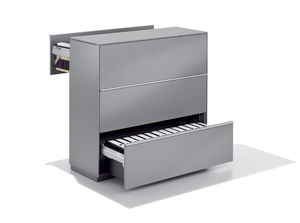 A filing cabinet is a set of drawers used for storing administrative files or paperwork. It may be vertical or lateral. On ArchiExpo, these items are arranged by such properties as type or special features (e.g., locking).
Applications
This furniture is often used to store important documents securely, and may even be fire-rated. Some offer a range colors or finishes to match other office furniture. Steel, wood, laminated boards and other materials are used to make file cabinets.
How to choose
Determine the number and type of documents to be stored. Some cabinets are designed to hold documents of a certain size or type, such us loose A4 sheets, legal files or medical files. Other factors include access frequency, required space to open a drawer, ease of opening and whether there is an automatic wheel lock to prevent the drawer from being pulled out of the cabinet when fully extended.

Tall cabinets are space efficient, but are more difficult to use if the top drawers are too high. Alternatives include lateral filers and filing cupboards. Verify compliance with applicable regulations and standards regarding fire safety, security and data protection. Extremely important files should be stored in heavy, fire-rated, lockable cabinets.