How to choose this product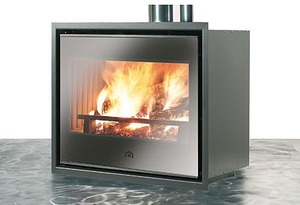 A fireplace insert is a closed firebox designed to improve the efficiency of an existing fireplace while preventing the escape of smoke, dirt and odors into the room.
Applications
Such inserts are designed to fit into a preexisting, traditional open fireplace. The variety of models includes those for single-sided, two-sided, corner or see-through, three- and four-sided fireplaces.
How to choose
Choice will depend on configuration and fuel type, which affects heat output and upkeep. A gas insert is very clean and efficient, but does not offer the charm of burning wood. Bioethanol and electric inserts do not generate cinders or soot, but give off little heat and are less ecological than wood or wood pellet models.
Advantages
- Higher heat output
- Easy maintenance