How to choose this product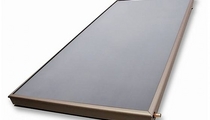 The flat-plate model is the most common type of solar collector. It consists of a dark-colored metal plate and an insulated metal or plastic box. The plate absorbs solar radiation and transfers the heat to water circulating in the box.
Applications
Unglazed versions are used only to heat swimming pools. Glazed models are the most common type in home, commercial and covered pool water heating systems, where maximum temperature demand does not exceed 70° C.
Technologies
Glazed collectors have a transparent top, creating a greenhouse effect. It transmits most of the short wavelengths of incoming sunlight, while blocking the long wavelengths emitted by the absorber plate. Unglazed models lose heat by convection due to the wind blowing over the collectors.