How to choose this product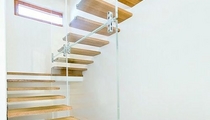 A floating staircase has unobtrusive supports, giving the impression that it is floating. It may be cantilevered from stringers concealed in the wall, supported by transparent handrails or suspended from the ceiling. On ArchiExpo, these items are arranged by properties such as type (e.g., straight, spiral) or material (e.g., wood, glass).
Applications
These stairs create a stylish transition in the home and help maximize visibility between different levels. They also are found in art galleries, boutiques and other commercial or public areas where style and quality are important. Applicable regulations must be followed.
How to choose
Form and materials can be chosen to complement or contrast with the surroundings. Determine desired support system, keeping in mind relevant regulations covering overall dimensions, distance between treads and the placement of handrails. A more robust protective barrier may be necessary where children are present, persons with reduced mobility often require rails on both sides to facilitate use.

Choice of materials is also important. Glass treads may be noisier and less comfortable under foot than a carpeted staircase, though they are likely easier to clean and allow more light into the space.