The Online Architecture and Design Exhibition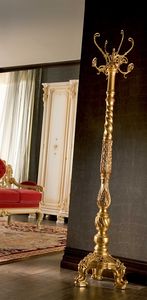 COAT STAND, FINISH GOLD LEAF COD. 10 MEASUREMENTS: CM. Ø 38 X 185H.

This professional transport solution assists personnel in moving guests to a different room and coping with a sudden guest relocation quickly and conveniently. Height-adjustable shelves 2 locking brakes, diagonally placed Shelves with ...
See the other products
wanzl

floor coat rack
GODOT LIGHT by Alberto Brogliato
"Godot" is a clothes stand that makes clear reference to a natural and fantastic world. Equipped with a central pocket emptier and coloured, interchangeable hangars of different colours, it can be adapted very well to a private area ...

floor coat rack
IPALI by J.C.Viso & lorbus
Hand-worked clothes stand in minimal style, turned in beech-wood. Poles available plain-coloured or natural beech-wood.
See the other products
DIAMANTINI & DOMENICONI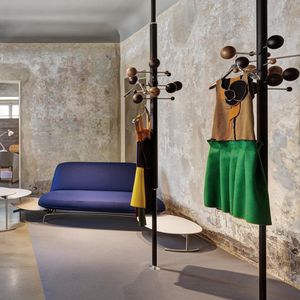 floor coat rack
AT16 by Osvaldo Borsani
AT 16 is a rotating coat hanger of adjustable height. The AT 16 was originally designed by Osvaldo Borsani in 1961. The re-edition appeared in 2012. The structure of the AT 16's central column is composed of an external, ...

floor coat rack
WOODPECKER by Mist-O
Coat stand with plexiglass tube and beech wood base and supports, inserted into the tube and upholstered with leather straps. H 181 W 43 D 43

floor coat rack
PMAXIO CL
... its 8 acrylic pegs, this contemporary coat stand will bring modernity to the reception areas. 8 Rounded transparent acrylic pegs to care for the clothes. High quality stainless steel finishing. Coat ...
See the other products
ALBA

floor coat rack
SKY by Jean Louis Iratzoki
A complete range of accessories for offi ce; coat rack, wastepaper baskets, umbrella stand,… designed around one concept: a combination of metallic structures and plastics parts on top of them defi ...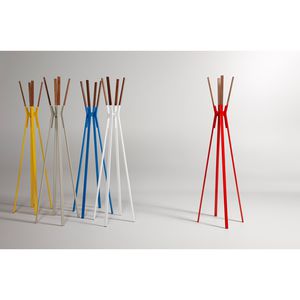 ... it up or keep it naked. Either way it remains easy on the eyes. Who says utility can't be attractive? Splash Modern Coat Rack: • Powder-coated steel • Solid Walnut • Felt pads on bottom of ...

floor coat rack
ESAGONO by Enrico Tonucci
Rotating-column coat stand made from solid wood with extending steel rod for clamping between floor and any desired height of ceiling (between 223 and 320 cm). 
A hole must be drilled in the ceiling (can ...
See the other products
Schönbuch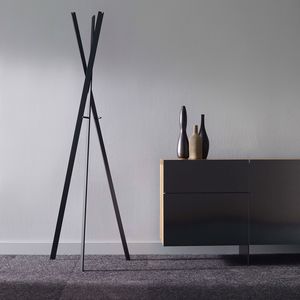 floor coat rack
CR3 by Wolfgang C.R. Mezger
More than a mere coat rack, CR3 is an architectural eye-catcher with its extreme, hard lines and gleaming metal façade. Designer Wolfgang C.R. Mezger describes his sculptural hanging storage piece as ...
See the other products
DAVIS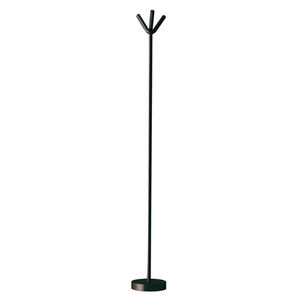 floor coat rack
BINCAN by Naoto Fukasawa
... different heights, an umbrella holder, an ashtray/ small object container, an entry barrier, a book stand, a small desk and four floor lamp of different heights an sizes.
See the other products
Danese

floor coat rack
TREE by Mario Mazzer
... scene that gains in personality by virtue of the huge expressive value of a unique object that cannot go unnoticed. The Tree coat stand is made of coloured polyethylene; thanks to its resistance to atmospheric agents, ...

floor coat rack
ROKUMARU by Nendo
A poetic vision of a tree that becomes a coat rack. Nendo interprets nature with oriental symbolism: the six branches are the radii of an imaginary circle, the union of the Japanese words roku – six – ...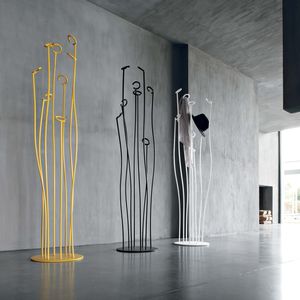 Alga was born from a concept of movement, from the underwater world's soft and quiet lines. It is a tubular, painted metal structure, culminating in elegant, round coathangers.
See the other products
Tonin Casa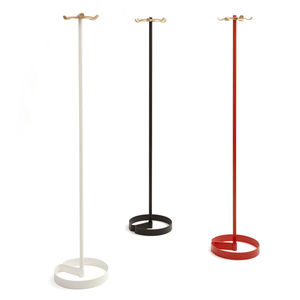 floor coat rack
PROPEL by Harri Korhonen
Propel is a new simple coat rack with a playful spirit. Its innovative structure and wooden hooks combined with fresh colours make it a much anticipated novelty.
See the other products
inno

THIS CHIC SIMPLICITY DESIGN FEATURES THE HARMONIES IN COSMOPOLITAN ASPECTS OF ARCHITECTURE, ART, FASHION. FOOD, BEHAVIORS. AND LIFESTYLE REPRESENTING BOTH THE PAST TRADITIONS AND PRESENT'S INNOVATIONS. 45 x 26 x 135 cm Ø 26 x 90 cm
See the other products
Deesawat Industries

floor coat rack
FORREST by Gianluigi Landoni
It is a clothes hanger and partition made of 5 mm nitrogen-cut and folded steel sheet metal, covered with micro-embossed epoxy-coating, it comes in black or white.

floor coat rack
VISP by Staffan Holm
Visp coat stand marries simple functionality with the most advanced of steel production techniques. You can use Visp to hang up coats, umbrellas and bags, with or without coat-hangers.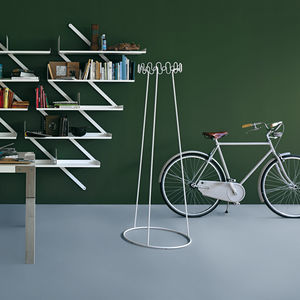 floor coat rack
CROWN by Stefan Schöning
"A crown flutters in the air". This intuition has produced "Crown", perfect functionality combined with a formal design with a strong personality. Clothes stand, in steel frame. Available in chrome or in glossy colours: white, black, red.
See the other products
DESALTO spa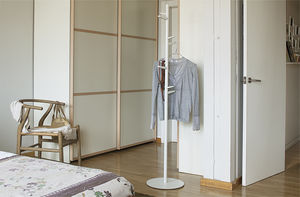 floor coat rack
TAIGA by Antoni Arola
... forest shown in the film Dersu Uzala by the Japanese film director Akira Kurosawa, where the forest is also called Taiga. This coat stand has been designed by Antoni Arola, an internationally renowned designer. The ideal ...
See the other products
Mobles 114 editions

floor coat rack
RAMO by Emanuelle Jaques
A garden stepladder, a kind of sculptural item to be left outdoors, to fully enjoy outdoor living. Leaning against a wall or resting on the ground, useful for reaching the highest branches of a tree or for small pruning jobs in the garden. This ...

floor coat rack
METACACTUS by Drocco & Mello
The subject of several, free and often ambiguous interpretations, Cactus is the icon of Italian design that has revolutionized the domestic landscape, by subverting the borders between indoor area and open space. Cactus comes as an ironic ...
See the other products
Gufram

floor coat rack
BYSTANDER by Ari Kanerva
Bystander, design Ari Kanerva, is a floor-standing coat rack – group several in a conference room or lobby, place one next to each table at a restaurant, or put one in your office for ...
See the other products
Vivero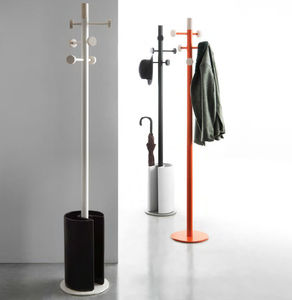 floor coat rack
SLOT by Enzo Berti
Slot is a simple element of design which has a double function of hanger and umbrella-stand. It is composed of a kind of ceramic vase which wrap around the structure of the hanger pole and has a function of base, without any need of screws ...
See the other products
Flai