The Online Architecture and Design Exhibition

... thonet chairs are a timeless story that never goes out of fashion and gains more value in the course of time. WOODEN BEECH COAT HANGER.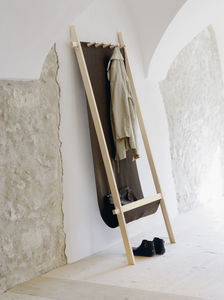 floor coat rack
LODELEI by Martin Pärn & Edina Dufala Pärn
Warderobe looking for wall. Lorelei, 94 - 38 - 193, values elegant loden, loves the company of jackets and coats, with consistent sagginess and in need of care. Looking for a stable place with a strong wall to lean on ...
See the other products
Moormann Nils Holger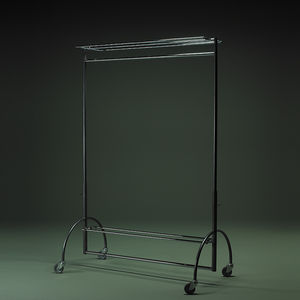 floor coat rack
by Andrée Putman
DESCRIPTION Chromed and lacquered antracite grey steel tube on casters. With or without hats and shoes racks. DIMENSIONS l.48 x w.23.7 x h.82.7 inch

floor coat rack
GAME OF TRUST by Yiannis Ghikas
Obtained from the interweaving of three elements, the hanger is distinguished by outstanding design. Materials: solid wood. Colors: natural wood or lacquered white, red, yellow, green or black. Dimension in cm: Ø 48x170h
See the other products
miniforms

floor coat rack
B7217046 by PJ Mares
The collection of small furniture objects, the butterfly shelves, the oona racks and the sanba tables, is a remarkable beginning of an extraordinary collaboration. The design duo behind PJ MARES Tom Mares and Peter-Jan ...
See the other products
SERAX - MAISON D'ÊTRE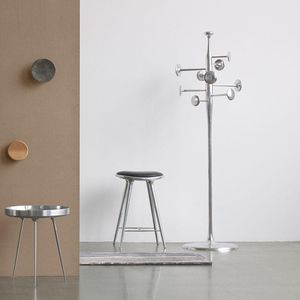 floor coat rack
TRUMPET by Space Copenhagen | DK
Mater Trumpet Coat Stand is a contemporary and sculptural piece of design made by the Danish architect duo Space Copenhagen. The nine discs in three different sizes are fitted to the stand and positioned at angles suitable ...


floor coat rack
JACK THE HANGER by Bram Bollen
Jackets, hats, boots, bags and jackets all have a place on JACK THE HANGER. This playful coat rack offers masses of storage space and also acts as a bench. Bram Bollen combines functionality, elegance ...

... Steel & wood Color: Black & natural wood Shipping: krethaus@krethaus.com Descriptions: The Montauk coat stand is perfect for the children costumes and coats.

consisting of a mobile frame of matt-silver anodised steel tube, and an all-round hook ring with hat and coat racks.

floor coat rack
TULIPAN by Elli A.
Tulip shaped standing COAT RACK.Thoughtfully designed, this product is ideal for both residential and commercial use.Available in various colours making it an easy addition to any environment.It gives ...
See the other products
Plart Design

The daily ritual of dressing takes centre stage with this modern valet stand. The arching clothes rail, which incorporates a full-length mirror and vanity shelf, builds on his previous explorations of creating structures that work to ...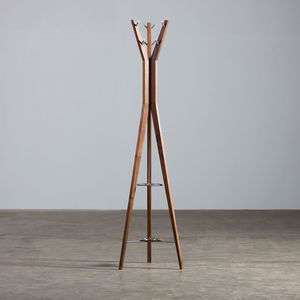 DIMENSIONS H 180 cm Leg diameter: bottom 2x3 cm - top 5x3 cm Bottom width/depth: 47 cm Dismantling option: No Packing: stretch wrap + five layer cardboard box Packing: 1 piece/packing

Finish: Linen / Pink / Gold Gilding This item is available for customization in a wide variety of AFK Finishes. Dimensions: H: 45-1/2" W: 27" D: 16"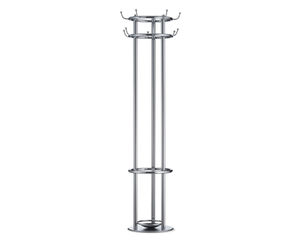 See the other products
Embru

Coat stand in forged solid iron Here presented in "anticato ferro antico" (antiqued iron) finish W 35 cm, H 168 cm, D 35 cm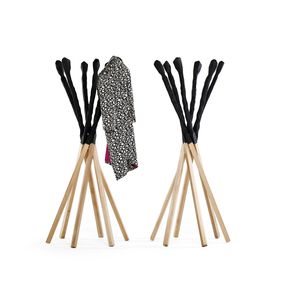 floor coat rack
MATCH by Studio Baag
Match is a coat hanger by Studio Baag for Mogg. Made from solid beech stained black finish and natural oil. Match is a coat hanger that wants to remind the match consumed by flame. Six wooden sticks ...
See the other products
Mogg

The Evelyn hatstand is a distinctive, contemporary hatstand, available in our standard finishes. The dimensions for our Evelyn hatstand are: Height: 180cm Width: 25cm COMMISSIONING A EVELYN HATSTAND Evelyn hatstands are customizable. ...

floor coat rack
01 by Matej Chabera
Coatstand 01 is basic and functional. Its neutral aesthetics makes it a universally usable interior object. details — material: solid ash finish: wax impregnation height: 1800 mm width: 550 mm depth: 550 mm weight: 3.3 kg
See the other products
LUGI

WENDRA is a lean-to coat or towel-tree, made of smooth wood, which design-lovers and not-so-gifted craftsmen alike can enjoy. The helpful assistant is the first piece of lean-to furniture that can be attached to the wall ...
See the other products
kommod

floor coat rack
BETOWERGA by Alexandra Tsoukala
Wall mounted hanger, 140x40x20cm, steel structure, chrome plated.

Coat rack or Totem lamp, are inspired by the nature.Realized in colored polyethylene, Bamboo is available in 6 colors .Opt for it and enrich it with its additional birds if you are feeling ...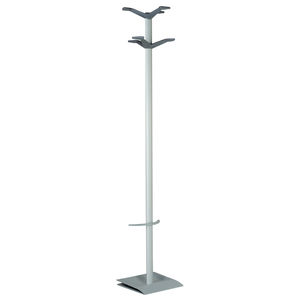 Products such as desktop environment racks, baskets or footrest not only a true feature, but contribute to the overall feel of the workspace by offering a variety of installation possibilities.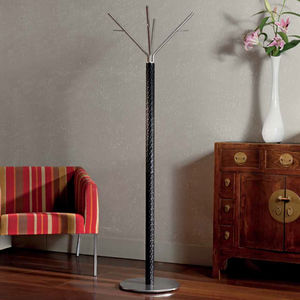 Extremely functional with its hangers, characterized by completely handmade weaving. Available in different shades of color, it's the perfect accessory to emphasize the personality of every kind of layout.