The Online Architecture and Design Exhibition

A floor light with generous elliptical shapes. The diffuser, an illuminated globe in white polyethylene, floats from the cable supported by a base in white matt coated metal or in white polyethylene. Inside, it houses ...

... combines with the naturalness of light to give a bright, elegant orb, with a minimal&chic design. Oh!_FL is an attractive floor light, with diffuser and mounting frame in white polyethylene. Produced by rotational moulding, ...

floor lamp
CALEIDOS by Michele Bellesso
Reinterpreting the great classics of elegance, fresh ideas and new stylistic paths forge metals and skilfully shape glass, identifying new shades of taste, pleasant and original, typical of Bellart collections, a brand in continuous evolution ...

floor lamp
AVVENI CONCRETE
... degree beam angle with lenses for 25, 36, and 60 degrees). Mounting: Table / Floor lamp, power supply pluggable on the lamp cord included country-specific plug Lamping: LED-technology ...

... represent perfectly the golden era. With a height of 1 meter, this catchy lamp will give your home a touch of originality, style and luxury. You can either put it on the floor with the help its support ...

BASIC OUT by HISLE outdoor floor lamp The Basic Out lamp, big light bulb shaped is and original outdoor lighting, resistant and decorative, for garden, terrace, patio. Its white polyethylene ...

floor lamp
LUXPICKET CANNE
... outdoor telescopic floor lamp The Canne Luxpicket is an outdoor LED lighting entirely of 316L stainless steel (marine grade stainless steel especially adapted for sea front installations). ...

floor lamp
LUXPICKET SPOT
... telescopique and adjustable floor lamp The Luxpicket Spot is an outside LED lamp entirely of 316L stainless steel (marine grade stainless steel especially adapted for ...

lantern lamp
LAS 500 by Claude ROBIN
- Steel light with presence detector LAS 400 // 245x 245x 395 mm LAS 500 // 245x 245x 495 mm LAS 600 // 245x 245x 595 mm

solar lamp
BNS 020 by Claude ROBIN
- Steel lamp - 125 x 125 x 350 mm - use it as lantern or pathway light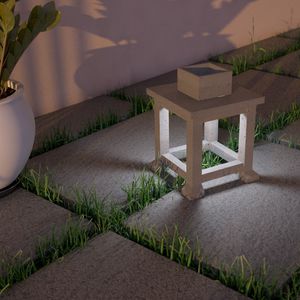 ''Lantern''concrete floor lamp is made of cast concrete. Design by Urbi et Orbi studio in 2014. It is a single piece made of concrete. LED module IP65 appropriate for outdoors. Its ...

floor lamp
MOLO URCHIN SOFTLIGHT by Stephanie Forsythe & Todd MacAllen
... products to clients around the world. Urchin Softlight A shape shifting light that provides ambient diffusion of energy efficient LED light. urchin has an irresistibly unique character that invites playful interaction. ...

... STAINLESS STEEL AISI 316 L AVAILABLE WITH DIFFUSION OF LIGHT AT 360° POSSIBILITY OF COMING OUT FROM THE FLOOR OF 200 OR 500 MM SOURCE : LED DIFFUSER : OPAL POLYCARBONATE WITH STAINLESS STEEL ...

Ladies and gentlemen! The one and only! Classics in its own kind that everyone should know. Don't shut your eyes and look at its shining. Without any complicated clockworks but it may shine in orange colour. Watch this space…
See the other products
Terra Group

This lamp is famous for many roles so no wonder that it's got a lot of fans. Stone can be cunning, shining, outstanding or striking. Keep it rolling, dear friend!
See the other products
Terra Group

This little and adorable spruce tree is a decoration not only on high days and holidays. We admit that Kevin doesn't like being home alone but don't worry! You can leave it there and your house will be untouched.
See the other products
Terra Group

What's your name? What's your…? Cypress doesn't ask questions. It's a superstar without any doubts. Still trendy and still the same. You cannot forget it!
See the other products
Terra Group

Have you ever asked for the moon? Here it is! This brand new, shiny ball will make your life a whole lot easier. Even during the full moon! Now, are you ready for the moonwalk..?
See the other products
Terra Group

floor lamp
CANTIERE by Alberto Ghirardello
Cantiere, like the name suggests, is an adjustable floor lamp which reminds us of technical lighting for construction sites but is revisited for home environments in a contemporary and essential way. ...

LANCIA design: P. Pepere Floor lamp in white painted aluminum and satin methacrylate diffuser. The floor version includes an additional bracket that allows wall installation. Touch ...

floor lamp
LINEAVENTI CEMENTO STYLE by Vesperini & D.N.
Lighting fixture not included. Body made of concrete for ground application. Available in different colours. Fixing nuts and bolts included. Total weight of the concrete post with product fitted inside: 13.5Kg/29.76Lb. Suitable ...

floor lamp
ACID by Emily Gunning
Acid lamp in angular shape and design of diamond was designed by Emily Gunning, designeuse English talent that works hand in hand with BOQA. Placed on a buffet or simply floor, Acid lamp ...

Description Diffuse-light table or floor lamp. Diffuser in hand?blown triplex multi- layer white glass of irregular shape, with acid-etched finish. Base and diffuser holder in turned, threaded aluminium, ...

Is our muse a surfer? The MUSE lamp brings another clue to the inspiration of the product range. Its shape resembles the curve of a cresting wave. This multipurpose item surrounds itself with a halo of soft light. This ...

Inspired by nature, the LOTUS lamp is characterized primarily by organic lines. Its oval shape helps to suffuse its entire surface with a glowing light. It is a wanderer that can be placed wherever you wish to enjoy a ...

The serene and delicate PERL emits a soft and exhilarating light that adorns with femininity and sophistication both interior rooms and contemporary wooden terraces. Whether hung, placed on a table, or grouped together, PERL will gently ...

floor lamp
KNIZE 35 20808 by Christiane Büssgen
... pentagons. Originally designed by Adolf Loos for the Knize talyor-shops, in 2009 converted by Christiane Buessgen to a table or floor lamp. as well in 55cm diameter available. MEASURES Width: 35 cm ...

floor lamp
LIGHT SCULPTURES by Béatrice Desrousseaux
The luminous sculptures are special lamps, tinged with daydreaming. 

Béatrice Desrousseaux' know-how is unique. The way she sculpts the paper creates an almost vitrified aspect which in turn produces a soft and pure ...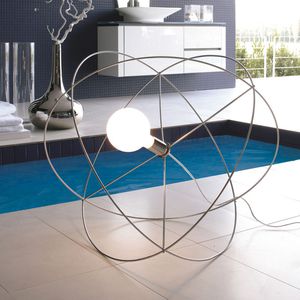 Steel wire floor lamp with sandblasted bulb. Ø 70 cm. Light 1xE27 - 52 W HES (Patented item) All lamps are CE certificated. For indoor use only.

Metal floor lamp with sandblasted bulb. H. 50 L. 50 P. 50 cm. Light 1xE27 - 52 W HES (Patented item) All lamps are CE certificated. For indoor use only.

The WAaF lamp is a devoted co-worker. It will help you and keep you company all night long while working on projects. You can even give it orders : "Seat!", "Lie Down!" or even "Fetch the ball!". Agile on 4 but also ...