floor lamp
DANSEUSE by Rafaële David & Géraldine Hetzel
Ethereal, the Danseuse balances on its two cut edges, playing with the light. The Danseuse can be laid down, clunged onto the wall, or suspended, alone or in tandem with another Danseuse or two. Soft light filters through the thin veil ...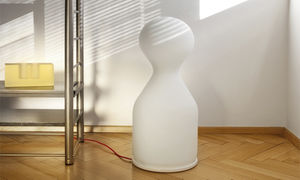 floor lamp
TEO : PC843 by Michal Froněk Artěl
... . TEO lights are made of hand-blown triplex opal glass and are designed in several sizes and varieties: ceiling, floor, solitary table lamp.

floor lamp
BALLONS : PC858 by Lucie Koldová & Dan Yeffet
... Balloons Designer: Lucie Koldová & Dan Yeffet Available executions: BAS, ADD Description: A collection of simple yet timeless lamps based on a transparent, nearly invisible balloon with a hovering reflector to serve ...

floor lamp
MUFFINS: PC853 by Lucie Koldová & Dan Yeffet
... Muffin lamps caught the attention of Yves Saint-Laurent, which used them in a TV advertisement for its 2011 men's collection. The Muffin collection comprises three basic variants – floor, ceiling, and ...

floor lamp
PLANTA: PC860 by Barbora Rázlová
Line: PLANTA Designer: Barbora Rázlová Available executions: BAS Description: Liven up your favorite space with the small, shining gardens of the PLANTA collection. The multiple varieties let you cultivate creativity and entice more ...

A New Solar Beacon Iconic. Designed to be the brightest La Lampe, its uncovered LED provides abundant and warm light, which is amplified by the reflective pyramid in the base. Features Weather ...

Nomad, Versatile Suitable for indoors as well as outdoors use, La Lampe Petite dresses up the spaces where it is set or suspended with a mellow, warm natural light. Its Ultra-light structure makes it effortless carrying ...

... with a quiet energy. It diffuses a soft ambient light that brings life to your interiors and exteriors, available either with floor or ceiling mounting options.

... Sculptures, a group of works handcrafted out of shoji paper that eventually comprised over 100 luminaires – table, floor and ceiling lamps. He chose the name 'akari' for these objects, a word that means ...

floor lamp
CIL by Benjamin Faure
With the CIL floor lamp/wall light, Benjamin Faure brings us a graceful piece, as light as a lash, which can be used either on its base as a floor lamp or as a wall light, ...

floor lamp
UTO by Lagranja Design
Technical details Lamp for indoor as well as outdoor use, flexible and soft to the touch, so that the user can interact completely with it, Uto represents a luminous object to touch and to move around, whose function ...
See the other products
FOSCARINI

Technical details An original take on the floor lamp, which develops horizontally and has stolen its name from a cartoon character. Stewie, a Luca Nichetto design, is the new element for the house of ...
See the other products
FOSCARINI

floor lamp
ODEON by Studio Klass
Covered in leather, a warm, natural, touch-friendly material, Odeon has a finger loop for moving it around the home. Pointed towards a wall it creates a wall-washer effect, the width of which will depend on its distance from the wall. ...

floor lamp
UOVO by Ufficio Tecnico
... version of Uovo has a diffuser in opaline white polyethylene to resist the elements and can be used either as a table lamp or placed on the floor. The 5-metre cable means it can be moved where light is required.

floor lamp
TOUAREG by Sandra Figuerola
... life. This designer lamp is made from thermo-lacquered aluminium and is available in two sizes that can be combined in white, sand, bronze and anthracite, to enjoy the magic of a candlelit dinner. More than just ...

... Fez is a collection of designer lamps made from thermo-lacquered aluminium, which contemporarily reinterprets the traditional Moroccan lattices of hispano-american architecture. More than just an outdoor lamp, ...

floor lamp
PROJECTEUR 365 by Le Corbusier
... and sandblasted in the inner part. Painted body and base. Screws and small metal parts black chromed. E27 FLUO/LED/HALO Lamping Source E27 bulb Total power 150W Emission direct, spot Switching dimmable, according to ...


floor lamp
BOALUM by G. Frattini & L. Castiglioni
Table, floor or wall lamp. Structure in reinforced flexible white plastic with ends in resin. The small torpedo lamps are connected to each other in series and separated by an insulating ...
See the other products
Artemide

floor lamp
IN-EI : HAKOFUGU by Issey Miyake
"IN-EI" - Japanese for "shadow, shadiness, nuance". The art of lighting has a conceptual and technological heritage at the Miyake Design Studio, dating back to 2010, when Issey Miyake and his research and development team called Reality ...
See the other products
Artemide

floor lamp
KARIBÙ by Oriano Favaretto
Floor lamp with matt white (OP71) or black (OP17) painted steel frame. Base in white or black colored cement and lampshade in white or black cotonette. Bulb not included.

floor lamp
SOLEDAD by Elsa Pochat
Floor lamp with structure in aluminum and steel with "Cafe Royal" varnish. Luminous, vertically sliding disk and base in Carrare marble. Available in other colors. Dimensions: W. 47 x H. 207 cm (18.5"w x 81.5"h)

floor lamp
TRACE by Johan Lindsten
Floor lamp in lacquered metal, LED lights, base in lacquered stell. Top lightening structure in lacquered aluminum. Methacrylate diffuser, LED 32W 3000°K 2272 Lumen. Available ...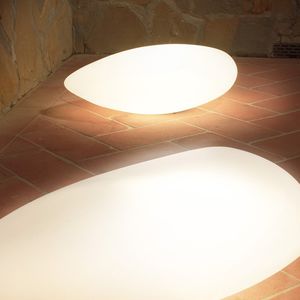 A series of rotational moulded thermoplastic exterior floor lamps 300cm power cord included.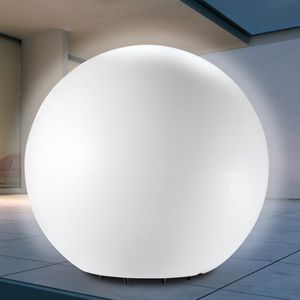 A series of thermoplastic exterior floor lamps. 300cm power cord included.

floor lamp
DECOMPOSÉ LIGHT by Atelier OÏ
"The projected light is broken down on each ring, light rays come to life in a scenic dance, made of shadows circulating around the central heart."

Opaline glazed frosted glass, Itka's simple and iconic shape is subtle and reveals an unquestionable intelligence behind its design of luminous performance. In spite of its flat shape, the light diffuses uniformly and does not generate ...

Floor lamp. This lamp can be positioned wherever you want to create the right mood. Stratified methacrylate diffuser available in a variety of colours.

floor lamp
AMPOULE by Federico Traverso
... Ampoule at the same time. Its impressive design is not a giant with foot of clay: Ampoule XL infact, is firmly anchored to the ground thanks to the mounting bracket and the ballast which helps to give additional stability. ...
See the other products
Myyour

See the other products
Myyour

floor lamp
BARCINO by Manel Lluscà
STRUCTURE MATERIAL High purity aluminium DIFFUSER MATERIAL Polyethylene STRUCTURE FINISH Urban grey DIFFUSER FINISH White LAMP 1 x E27 max. 100W UNITS/BOX 0 IP IP65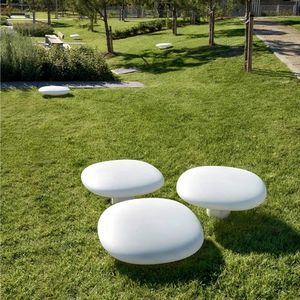 ... 60 Length 60 Profundidad 29 units/box 1 Ip 65 Bulb type 4xE-27 max. 13W / max. L= 120mm / Fluorescent - LED

Floor lamp, blown glass. White structure. T4.026 white

Table lamp with fitting that provides direct light. Made by a glass with a spacific detail that absorbs and projects the LED light. Structure in MDF and matte metal. Lighting and dimming through a touch ...