floor lamp
BOXES 4600 by Josep Lluís Xuclà
BOXES is an outdoor lamp with a minimalist design and an adjustable projector. Designed by Josep Lluís Xuclà, it is available in two colours: khaki lacquer or matt oxide. Sandblasted pressed glass 1 x HCI G8,5 230V 20W
See the other products
VIBIA LIGHTING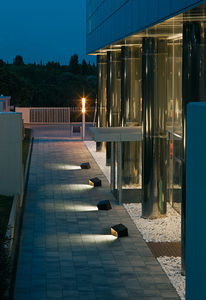 floor lamp
BREAK by Xuclà & Alemany
Outdoor bollard light designed by Xuclà & Alemany. It gives a pleasant, subtle light through the methacrylate diffuser, and can withstand tough outdoor conditions. Available in khaki lacquer, oxide lacquer and concrete. Acrylic diffuser
See the other products
VIBIA LIGHTING

floor lamp
IARA by Hugo Tejada
... essence projecting an everyday product. The profile and volume reminds us that we are facing a presence, cultured and refined lamp. It is made of triplex opal glass and light effect is fantastic. The collection consists ...

floor lamp
LÀSZLÒ by Cristian Malisan
LASZLO Floor lamp and table lamp created from three pieces of white plastic and a black chrome base. Scribbled with light, playful, it plays a role that is at once rhythmic, intimate ...

Borrowing its fomn from an earty ancestor, Wired King has a curvy skeleton rising from the floor to envelop the lampshade. Dimensions h. 158cm d.40cm h.62 1/5" d.15 3/4" Material Stainless steel, gold-plated steel, ...

Resembling a life-size chess piece, King is a floor light with a grand Baroque form that demands to be the focal point in any room. The design makes a stunning visual statement, adding glamour and whimsy. Dimensions ...

floor lamp
STONE OUT by J.Puig & J.Novell
Shade rotomou/ded polyethylene Siructi/re pu/ished stainless steel/aluminium electronic ballast included/Lamp not included

floor lamp
BONNET BRIGHT by Liset van der Scheer
... folded in every way - until it builds perfectly inside. In addition, Bonnet Bright is available in a standing, suspended or floor version. A different color? You can change sleeve. Each whalebone of the Bonnet Bright ...

floor lamp
ATOMIUM by Hopf & Wortmann
Outdoor table and floor lamp (IP65). Roto-moulded polyethylene diffuser and inner structure with six light sources fixed on metal antennas. Orange neophrene cord set with IP65 connection device.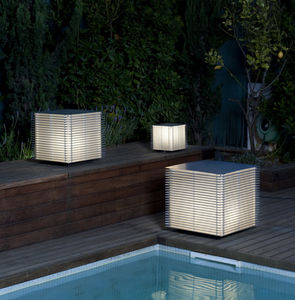 floor lamp
DOJO by Antoni Arola
Family of luminaries composed of two floor lamps, and two wall bracket. Extruded aluminium silver structure.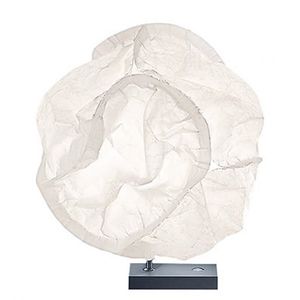 Their poetic character and great variety transform the fair-weather clouds CLOUD, into an atmospheric light sculpture. Its durable high-tech material can be sculptured to make each light unique. Standard lengths range from 50cm to 7m ...

floor lamp
FULL MOON by Nika Zupanc
Floor Lamp 77W × 50D × 152.5H cm Lacquered aluminium, LED table lamp and floor lamp with brass detailing. About Product: Aluminium ...

The originality of the spherical surface of Crystal Moon modern lamps creates a soft, inviting light and, at the same time, a multi-faceted light thanks to the irregular, crystallised surface - capable of creating a great ...
See the other products
SERRALUNGA

floor lamp
FLAME by Sebastian Bergne
Flame is the new outdoor floor lamp in Serralunga's category of sculptural outdoor lighting collection. Its design recalls the archetypal form of a flame, evoking the primordial connection between light ...
See the other products
SERRALUNGA

floor lamp
BIJOUX by Constantin Wortmann & Benjamin Hopf
Bijoux is a gemstone-shaped lamp designed by Constantin Wortmann and Benjamin Hopf for SLIDE. It is the perfect item to furnish living spaces in a fun key. Like all SLIDE products, Bijoux is made of polyethylene by means ...

floor lamp
PZL by Giò Colonna Romano
PZL is composed of two identical U-shaped modules that interlock as puzzle pieces. As a lamp, PZL livens up contemporary spaces and brings on good memories to all Tetris fans. PZL , like all SLIDE products, is made of ...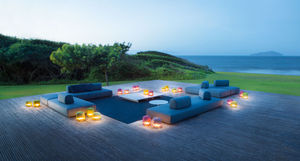 Series of floor and table lanterns. Removable cover made by sewing a one or two-colours Rope cord in a spiral-like pattern. The lighting body features a dimmable led lamp supplied by ...

floor lamp
LENTA by Davide Groppi & Bestetti Associati
Lamp for exterior environments designed for both floor and suspension use. Structure made of teflon, polycarbonate and aluminium. Standard E27 fluorescent compact bulb required.

Straight lines and pure design, this is VITEO. Our lightcube suits this philosophy perfectly. A cube made of opal acrylic glass, based on a stainless steel socket are stable enough to be used as a seat or table without a problem. It comes ...

... robust and compact round or square on-ground up-lights for outdoor lighting effects using energy saving LED's, and metal halide lamps. The luminaires have adjustable aiming function that can be locked into place after ...
See the other products
Ligman Lighting Company Limited

IP55 / EN60598 / CLASS I / CE / IK08A medium size floodlight use main voltage Par 38 Halogen lamps. These floodlights are designed to illuminate plants, architectural details and sign boards. The installation distance ...
See the other products
Ligman Lighting Company Limited

floor lamp
LANTERNA : LL1 by Carlo Tamborini
Glass and stainless steel lamp. LED lighting, battery supplied. Height mm.330 - Width mm.185 - Width with cover mm.260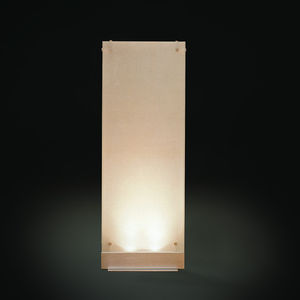 floor lamp
GLAÇON by Andrée Putman
DESCRIPTION Designed for the Hotel Wasserturm in Koln. Pedestal in brushed stainless steel, lamp case in grainned glass, attached by nickel plated screws. Light bulbs GU 10, 2 x 50w. DIMENSIONS l.16 ...

floor lamp
TIPI by Marten & Gustav Cyrén
The Tipi lamp in teak and steel, in collaboration with renowned Ateljé Lyktan. Comes in two different sizes. Product W: 80 cm D: 80 cm H: 95 cm Weight: 13 kg Seat height: Armrest height: Packaging W: ...

Decorative 'Light-Bulb' floor lamp. Printed methacrylate diffuser at front and printed shockproof back. For use with two E27 bulbs (included).

Floor lamp with direct and indirect light, characterized by a unique design that makes it impressive and able to differentiate the space in which it's placed. The lampshade made of natural fiberglass ...

floor lamp
PETIT ARBRE ZÈBRE