The Online Architecture and Design Exhibition

floor lamp
ARIA by Nicoletta Binello
Nicoletta Binello, 2013 Metal Floor lamp Aria is a work on emptiness and lack, on light and shadow. The lighting source, placed asymmetrically, always generates different effects … 100 / 240 V - 50 / ...
See the other products
DAVIDE GROPPI

Davide Groppi, 2011 Metal Floor lamp 220 / 240 V - 50 / 60 Hz LED 10 W - 630 lm
See the other products
DAVIDE GROPPI

floor lamp
ATOMIUM by Hopf & Wortmann
Outdoor table and floor lamp (IP65). Roto-moulded polyethylene diffuser and inner structure with six light sources fixed on metal antennas. Orange neophrene cord set with IP65 connection device.

floor lamp
STONE OUT by Josep Puig & Josep Novell
Shade rotomolded polyethylene Structure stainless steel Electronic ballast included/Lamp not included

floor lamp
IDEASETTECENTO
not convinced that this is a case. we are at the beginning of a new decade. this table-floor luminaire is given a dimension of life around which the everyday life spin... the idea of space, an eternal theme, a space of ...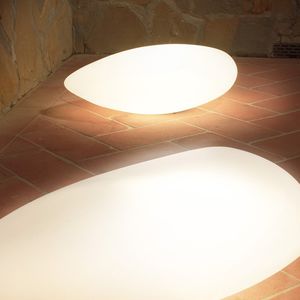 A series of rotational moulded thermoplastic exterior floor lamps 300cm power cord included.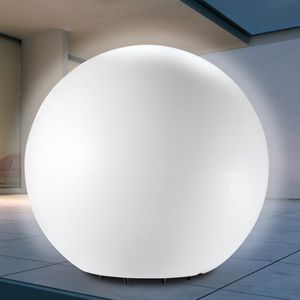 A series of thermoplastic exterior floor lamps. 300cm power cord included.

Opaline glazed frosted glass, Itka's simple and iconic shape is subtle and reveals an unquestionable intelligence behind its design of luminous performance. In spite of its flat shape, the light diffuses uniformly and does not generate ...

floor lamp
DECOMPOSÉ LIGHT by Atelier OÏ
"The projected light is broken down on each ring, light rays come to life in a scenic dance, made of shadows circulating around the central heart."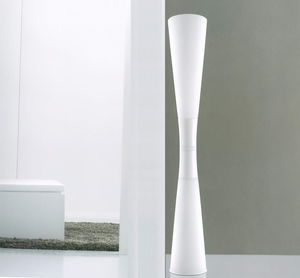 floor lamp
LUCEBAR : 4223031LI|4223048LI
class I, IP20, 230V H1796mm L289mm W289mm 54-1398-70715.22 white, glass 2x 55W 2G11 incl. - 2x 4800 lm approved for 2x max. 55W class I, IP20, 230V H1796mm L289mm W289mm 54-1398-70759.26 aluminium, glass 2x 55W 2G11 incl. ...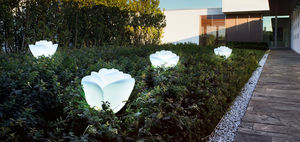 floor lamp
BABY LOVE by Moredesign
... Technical details. Baby Love, ornamental stylized lamp with a rose profile can take several forms: brand new floor lamp available in various heights, elegant floor ...
See the other products
Myyour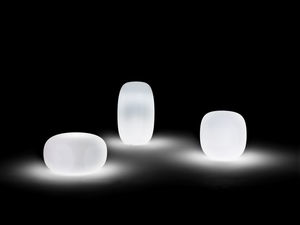 floor lamp
PANDORA by Federico Traverso
... project makes of the versatility its overriding characteristic: Pandora can be used as floor lamps both in external and internal spaces, such as hanging lamps or floor ...
See the other products
Myyour

floor lamp
BONNET BRIGHT by Liset van der Scheer
... folded in every way - until it builds perfectly inside. In addition, Bonnet Bright is available in a standing, suspended or floor version. A different color? You can change sleeve. Each whalebone of the Bonnet Bright ...

floor lamp
FULL MOON by Nika Zupanc
Floor Lamp 77W × 50D × 152.5H cm Lacquered aluminium, LED table lamp and floor lamp with brass detailing. About Product: Aluminium ...

The originality of the spherical surface of Crystal Moon modern lamps creates a soft, inviting light and, at the same time, a multi-faceted light thanks to the irregular, crystallised surface - capable of creating a great ...
See the other products
SERRALUNGA

floor lamp
FLAME by Sebastian Bergne
Flame is the new outdoor floor lamp in Serralunga's category of sculptural outdoor lighting collection. Its design recalls the archetypal form of a flame, evoking the primordial connection between light ...
See the other products
SERRALUNGA

floor lamp
LANTERNA : LL1 by Carlo Tamborini
Glass and stainless steel lamp. LED lighting, battery supplied. Height mm.330 - Width mm.185 - Width with cover mm.260

Beautiful curves for this 1970's sculptural lamp in chromed metal. A lighting system is nestled in each curvature. Main MaterialChromed metal

floor lamp
FOLD by Arnaud Lapierre

floor lamp
MEGALO by Olle Lundberg
... Halogen-free. Standard colour: White NCS S0300-N, black NCS S9000-N, red NCS S 2570-Y90R. Gloss value 10. Light source: LED light source included, colour temperature 3000K (4000K on request). Colour rendering CRI ...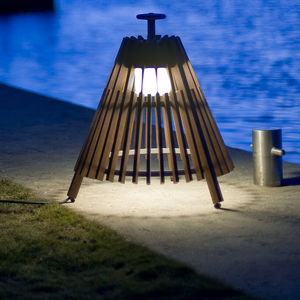 floor lamp
TIPI by Mårten & Gustav Cyrén
Material: Natural-colored teak with black lacquered aluminum details. Installation: For placement on ground indoor or outdoor. Connection: Delivered with black rubber cable 3x0,75 mm², length 5 m with earthed plug. Standard colour: ...

... vitality, and positive energy. Pyrite floor lamp have a structure made by oxidized brass and Alabaster Marble Shapes. Every space that you create in your home will be highlighted by the warmth of this ...

floor lamp
GEOMETRIC WIRE
The Geometric wire light is an exploration into the dimensions of massed geometric shapes, in this case the tetrahedron. The geometric light highlights the balance between a hard edged steel structure stand the small fragile globe housed ...

Floor lamp with fabric lampshade, base in fiberglass lacquered in aged bronze and high gloss black and polished brass tube. NOTE: 1 vintage lamp E27 included. Dimensions: Ø60 x 161 cm

Floor lamp with lampshade in fiberglass finished in aged natural fiberglass, and the feet in brushed brass finished in satin varnish. NOTE: 3 vintage lamps E27 included. Dimensions: Ø100 x 220 cm

It is a colored and modern floor lamp, createdaccording to a inimitable designYou can place it on the floor on a corner or ona carpet beside the sofa, everywhere it will bea brilliant jewel
See the other products
lampadesign.com

Mini Puffo are big coloured floor lamo, they givedaintiness and harmony to the surrounding atmosphereIdeal for the children bedrooms
See the other products
lampadesign.com

Floor light ORION echoes the fluid forms of Scandinavian design and the Panton Era, radiating a soothing light.