The Online Architecture and Design Exhibition

floor lamp
EOS by L.Pegolo, M.Mallone & R.Mallone
Description: wireless LED lamp standing 316L hand-polished stainless steel tubulars. Practical and compact, Eos is easy to carry around thanks to the handle sewn onto the 100% recyclable fabric coat.

brushed stainless steel luminaire and black body panels. frosted acrylic diffuser for indirect glare-free light distribution.
See the other products
F-SIGN

brushed stainless steel luminaire. frosted acrylic diffuser for double-sided glare-free light distribution.
See the other products
F-SIGN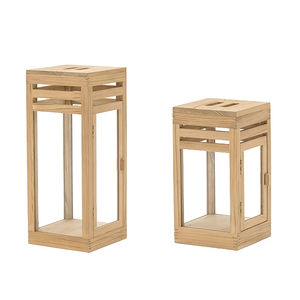 floor lamp
BARCODE : 2188
Lantern made of glass and FSC certified teak. Its minimal design makes a candle the focus of warm and magic summer nights in the garden.

floor lamp
CLEO by Marco Acerbis
All the items have a teak frame (L1). Sofas have stainless steel reinforcing plates. Two types of fabric: Sunbrella ecrù light mélange (C60) o Sunbrella bronze mélange (C61). Cushions with removable covers, easy to wash and weather ...

floor lamp
MILO by Marco Acerbis
Romantic elegance. Attention to details. Tailored as a perfect dress. Touching is allowed, no, it is compulsory. These some of the ideas that I kept in mind while sketching this collection. The result is a very lively family of objects ...

floor lamp
SPIDER by Roberto Serio
... combine both the classic and the modern tastes thanks to five accessories for a complete garden furniture. Sofas, sunbeds, lamps, carts and sideboards. A collection for those who are not happy of the simple outdoor set. All ...

Ivete is a mid-century floor lamp that shaped as a palm tree, that features a square carrara marble base and gold plated brass leaves. Its design makes this lighting fixture the perfect decorative piece ...

Color : BEIGE PLATINUM ANTIQUE , BLACK PLATINUM ANTIQUE , BROWN SILVER ANTIQUE , GREY PLATINUM ANTIQUE Dimensions (IN) : H12 Ø24/28 , H10 Ø28 , H10 Ø36 Dimensions (CM) : H30 Ø60/70 , H25 Ø70 , H25 Ø90

floor lamp
TWISTY by Stefan Heiliger
Floor lamp providing soft, diffused lighting, available in two different heights. Inner metal frame, white powder coated. Diffuser in white translucent elastic fabric, (washable at 40°C). Polished chrome ...

Because spaces come to life through the objects that adorn them, Kettal has developed a range of exterior decoration and design products. Materials Porcelain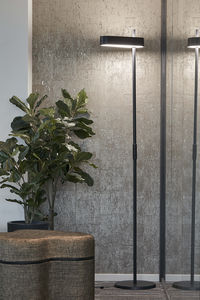 Article number: 821050-1A new lamp in the lamp range. With stylish design and a good ergonomicly correct light that illuminates both upwards and downwards. A modern LED module design ...

Floor lamp with indirect light. Base in lacquered steel. Diffuser in hide with the upper ring in lacquered steel. The transparent cable is fitted with the ON/OFF switch. The lamp is ...



floor lamp
HAPPY APPLE by Alberto Basaglia & Natalia Rota Nodari
Energy saving floor lamp, made of rotomoulded polyethylene. The handle placed on the base makes it easy to pick up, move and hang Ceiling rose-cap-handle in white colour, transparent cable.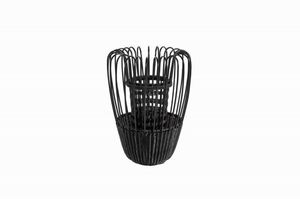 floor lamp
MIST by Estudi (H)AC
Estudi (H)ac has designed for Point a very original family of lamps-planter. A lacquered aluminium frame and the synthetic fibre Shintotex are the secret of these planters that light or lamps that contain ...

floor lamp
AMARCORD by P. Salvadè
Floor lamp in solid canaletta walnut and clear glass. Base with LED lighting.

floor lamp
STICK by P. Salvadè
Floor lamp with rod in solid canaletta walnut and shade in veneered wood.

Outrigger floor lamp, the product is available in different colours. As shown, oak with white powder coated metal shade and legs. H180xØ29cm.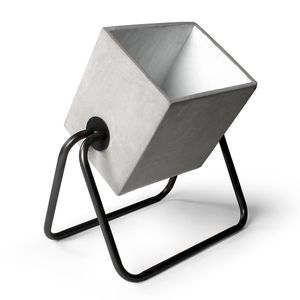 The Concrete Floor Lamp, designed by Lyon Béton brings aesthetic to any of your rooms. The concrete lamp is a fun and functional floor light great for projecting light ...

Lamp, frame and shade made of solution-dyed rotation-moulded polyethylene. E27 compact fluorescent bulb provided. Lacquered steel base. Please specify cable outlet: on the side or under the base. Option: Perforated base ...

floor lamp
LEAF by Peter Schumacher
The Leaf Lamp Tree is a tree-size standing lamp for public indoor spaces. The branches shape a magnificent crown foliage (51" / 90" / 120" or custom size up to 236" for special projects). Leaf Lamp ...