How to choose this product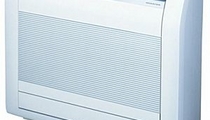 The inverter air conditioner includes cutting-edge technology, reducing energy consumption while offering a comfortable environment to the room's occupants. It operates continuously and can be adjusted according to exterior temperature and occupant needs. ArchiExpo organizes these appliances according to the location of the interior unit: floor, ceiling, wall-mounted, etc.
Technologies
Inverter air conditioners use a system that reaches desired temperature more quickly. Variable speed operation avoids excessive energy consumption at start-up and offers room occupants a constant, comfortable temperature. They comprise an interior unit installed at the bottom of a wall and an exterior element, the two linked by electrical and coolant lines.
Advantages
- Improved comfort and economy
- More durable than other systems
- No noise
- Steady temperature
Disadvantages
- More expensive than a reversible system