The Online Architecture and Design Exhibition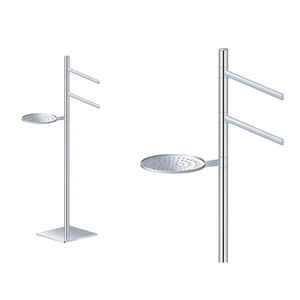 See the other products
PG Caststone

Freestanding towel rack and shelf, dimensions 490x310mm, height 690mm, made of high quality mineral material, colour matt white, weight approx. 25 kg

more than 3 bars towel rack
PANAMA
This seaside resort collection Panama is inspired by the architecture of its national capital and its famous Bridge of The Americas. The complete line is perfect for a festive atmosphere. Amongst others, it will perfectly fit to your ...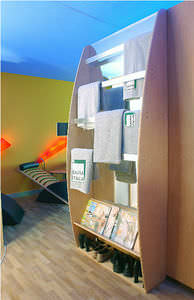 2-bar towel rack
CLUBWELL®
THE TOWEL STAND, MAGAZINE RACK AND SHOE RACK MIRROR UNIT In double version:single or double face,for every type of available space. Made of laminated beechwood suitably treated,polished ...


2-bar towel rack
TWENTY: TWTT by Giulio Gianturco
Twenty is a series of accessories in stainless steel AISI 316L characterized by delicate and refined details. They consist of thick metal belts and stripes bent and combined together, which create a collection of functional accessories ...
See the other products
MAKRO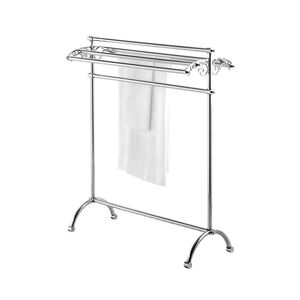 more than 3 bars towel rack
8695/8696

1-bar towel rack
FIR by Hannes Gumpp
freestanding towelrack and coatstand, Fir is the graphic abstraction of a tree, where branches and roots are connected to each other. Available in three colours
See the other products
ex.t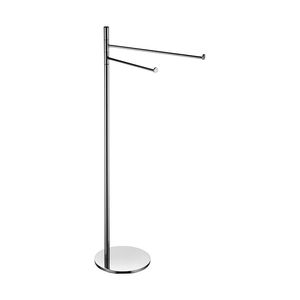 2-bar towel rack
151 00 061/151 00 041

2-bar towel rack
HOLLYWOOD
See the other products
EUROLEGNO

ladder towel rack
CUSHION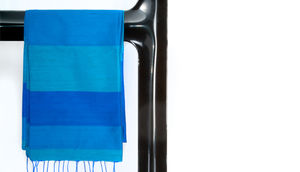 Multiplication of a simple 90 degree shaped 'H' letter inflated in FiDU – designed as a bedroom hanger for dressing-gowns and towels.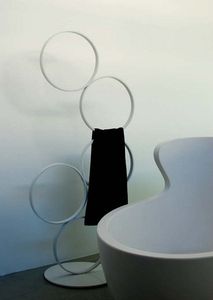 towel ring
ARNE by N.Nasrallah & C. Horner
Towel holder and table made in Corian. Design: Soda Design: N.Nasrallah e C. Horner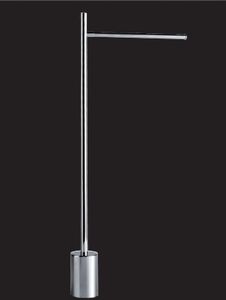 1-bar towel rack
LOFT & BATH

A bathroom range in bended stainless steel made for Habitat

3-bar towel rack
LÀLA by Maurizio Fardo
Towelholder in solid Palissandre / Ebony / Oak. PL 4124 / E 4124 / RO 4124, cm 38 x 25 x 95h
See the other products
MAOLI

towel ring
BEATRIX Y 401 by Giuseppe Iasparra
Towel rack with grooved metal structure, in the following finishes:- bright light gold,- matt Champagne gold,- bright chrome,- bright black chrome,- matt satined bronze,- bright pink gold,- matt pink ...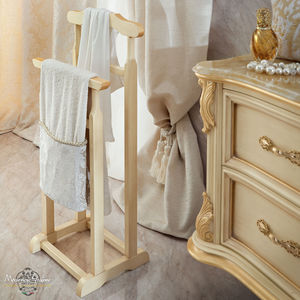 more than 3 bars towel rack
BELLA VITA
Luxury bathroom tailormade and handmade with two washbasins Cream background and Classic Italian style are the watchwords for this amazing bathroom. Each piece is tailormade and carved, besides the lines are enriched with gold leaf ...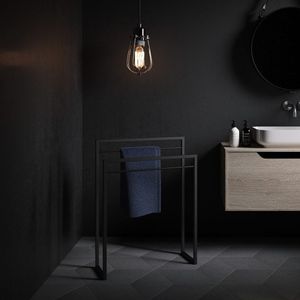 2-bar towel rack
LOOP by Mateusz Karewicz
A freestanding double towel rack. Thanks to its size, your towels will get dry really quickly and two levels of rails provide space for four towels. SPECIFICATION DIMENSIONS width: ...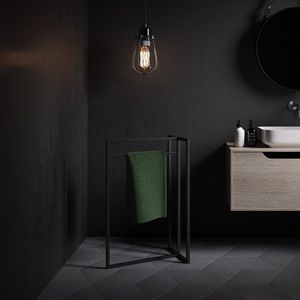 1-bar towel rack
MINI CLUBBER by Robert Budny
An elegant and minimalist towel stand - little version of CLUBBER coat stand. With the same intriguing silhouette, which will be a beautiful adecoration of any bathroom. SPECIFICATION DIMENSIONS width: 52 cm depth: ...

ladder towel rack
ESTANDA by Busetti Garuti Redaelli
The Estenda coat rack adopts a radically opposite approach: the stems/hooks and linking-bars remain visible and are there for hanging clothing, trousers and even resting objects on its round trinket-holder surface. Structure ...

more than 3 bars towel rack
Keep your towel within reach with this easy-to-assemble towel tree, constructed from powder aluminum with a bronze finish that makes a stylish and convenient addition to your backyard.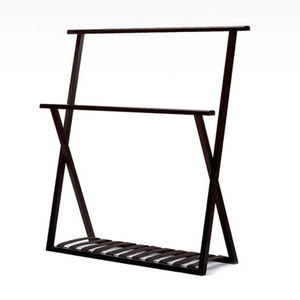 TOWEL RACK. STRUCTURE IN BRUSHED BROWN OAK, TWO SIZES AVAILABLE. MADE IN ITALY.

ladder towel rack
NESTOR by Rafaële David & Géraldine Hetzel
... enlarging the space, customize and adapt to specific configurations. A reference to familiar objects: trunk, luggage rack, hat rack, ladder, valet... for easy use: drop it bag at the right height, empty ...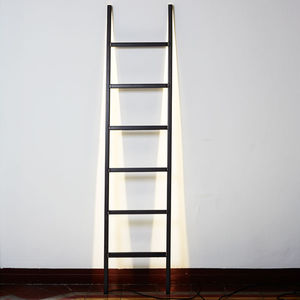 ladder towel rack
SCALTRA by Barbara Schweizer
... discrete contemporary look that highlights the elegant ( ruggedness ) roughness of iron : it works as portable clothes or towels rack. LED backlight gives an added value of atmosphere to the surrounding. MATERIALS ...

more than 3 bars towel rack
This free-standing bamboo towel rail is a stylish statement piece for any bathroom. It has four strong, well-spaced hanging rails for large, luxurious towels. Design by Lincoln Rivers. Materials ...