How to choose this product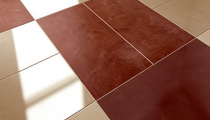 FloorScore® certified tile has been tested by Scientific Certification Systems (SCS) to ensure compliance with California indoor air quality standards. The primary concern is limiting the level of volatile organic compounds (VOC) to improve air quality. This certification is recognized by the U.S. Green Building Council's LEED Rating System among others.

On ArchiExpo, this tile is arranged by properties such as material or finish.
Applications
FloorScore® tile may be used in domestic, commercial, or public flooring. An advantage of tile over continuous flooring is that the individual elements can be more easily replaced and repaired. It may, however, be more vulnerable to water penetration than continuous or welded floor surfaces.
How to choose
When choosing, consider properties such as rigidity, hardness, resistance to staining, impact, chemicals and scratching. Ease of installation, replacement and maintenance are also important. Consider how the color and finish will fit with existing decor, how well it conceals dirt and finish durability. Hard floorings such as porcelain are better able to withstand scratching and sharp objects, but may be more brittle and easily cracked. Polymer-based floors may be more flexible and impact resistant.
Advantages
- Only a part needs replacing if damaged
- Wide variety of finishes and materials
- Low VOC levels
Disadvantages
- Less resistance to moisture penetration