How to choose this product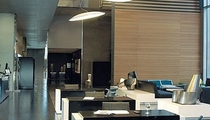 A fluorescent lamp uses tubular bulbs of standard diameter producing average to high-quality light in warm white, white, cool white or natural tones. It must warm up before reaching maximum brightness and is subject to flickering due to electrical current fluctuations. Compact fluorescents designed to replace incandescent bulbs can provide energy savings of up to 70%.
Applications
The energy efficiency of these lamps makes them common in dwellings, industrial settings, stores, offices and public spaces.
Technologies
Fluorescent tubes contain low-pressure mercury vapor and other substances which emit diffuse light when excited by an electrical current.
Advantages
- Good luminosity
- Low energy consumption
- Emits little heat
- Long life