How to choose this product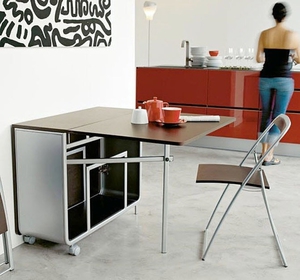 A folding table is often used in multipurpose spaces because it can be stored easily when not in use. While many are freestanding, some are attached to a wall, the top folding against the wall. On ArchiExpo, such tables are categorized by properties including style, use or material.
Applications
These tables can be used to create temporary dining areas, such as for a luncheon in a public space. While designed for easy storage, they may remain in place, their configuration changing to adapt to varying needs. For example, a living room table may have a drop leaf to accommodate extra guests. Some have wheels to facilitate movement.

Outdoor models are easily stored in winter to protect them from damage and weathering. Light, compact models can be used for camping. Some have integrated seating to optimize transport and use of space.
Technologies
Popular construction materials for folding tables include aluminum, solid wood, laminated board and glass.
How to choose
Ensure that the unfolded table does not hinder movement. Determine the amount of space needed for storage. Verify suitability for the intended use. While camping tables should be as light as possible, those designed for regular use in a public or commercial environment must be robust, easy to set up and to store.

Evaluate how table style, materials and form will transform the space. Wooden finishes add a solid, natural look, while bright colors add visual interest to neutral surroundings.