The Online Architecture and Design Exhibition

electric water heater
CYLIA AIR
Capacity: 300 l
A heat pump water heater for outdoor or ambient air. 300l
See the other products
AUER-GIANOLA

Component Standard ROSH Magnesium anode Safety thermostat Security release valve Smoke Control Chimney Cap
See the other products
bandiniwaterheaters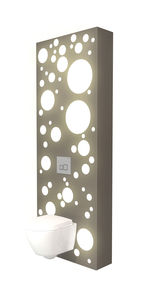 electric water heater
T4-102-W
Capacity: 240 l
See the other products
Twido

solar water heater
ZELIOS
Capacity: 198, 142 l
See the other products
CHAFFOTEAUX

solar water heater
DHW-20A-150L
Capacity: 150 l
DAISHIBA all in one domestic hot water heat pump is one of the most economical systems to heat the water for family use. Using free renewable energy from the air, the unit is highly efficient ...
See the other products
DAISHIBA

free-standing water heater
ECOWATER
Capacity: 258 l
... D-Tube safety condenser precludes pollution of domestic water with refrigerant and oil - Heat pump heats water tank through externally mounted coil preventing both calcification and risk of water ...
See the other products
CTC Enertech Group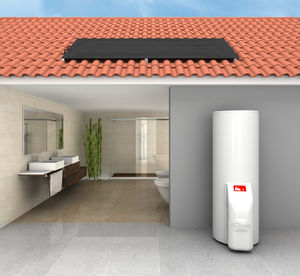 Capacity: 200 l - 450 l
... SUFFICIENT TO ATTAIN THE WATER TEMPERATURE DESIRED THE SOLAR PANEL IS LIGHT, DISCREET AND VERSATILE IN TERMS OF WHERE TO PUT IT OUTSIDE CYLINDER CONDENSER (NO CONTACT WITH WATER) 3RD GENERATION THERMODYNAMIC ...

gas water heater
MAGNATHERM®
The Laars MagnaTherm is a boiler or volume water heater that is available in 6 sizes (1.6, 2.0, 2.5, 3.0, 3.5 or 4.0 million BTU's) and has everything you need to satisfy large input commercial applications. ...
See the other products
Laars

... finned stainless coil that is designed to float freely. This unique feature allows for rapid thermal cycles by allowing the coil to expand or contract. Cold water enters the coil at the bottom, and is ...

solar water heater
SINGLE COIL
Storage boiler with single coil. Made of high-temperature enameled steel coated to prevent corrosion. Cathodic protection by magne­sium anode. Outer coating in vinyl. Insolation: PU 52 kg/m3, with 50 mm.
See the other products
Openplus, Lda

electric water heater
UB - UB INOX
Indirect cylinder capacity from 80 lt to 120 lt 80/120 lt indirect cylinder available in stainless steel AISI 316L or coated steel Magnesium anode for anticorrosion protection Nipples in the fixing template Indirect cylinder temperature ...
See the other products
BAXI

solar water heater
THERMOLENTZ®
... from frequent start-stops. A true modulable "all-in-one" device, ThermoLentz® hot water tank shall enable you to heat and store both household hot water and hot water for the heating ...

... efficient and cost effective way of water heating. The pump is mounted on the storage tank and draws from the ambient air, using that extra energy source to heat the water up to 55 °C. The pump is equipped ...
See the other products
Gorenje Tiki

electric water heater
THERMSTORE
... excellent resistance to corrosion Global Warming Potential (GWP) of 0.7 provides CfSH benefits Insulated using the latest HCFC free Envriofoam Corrugated heat transfer coil to give 20% faster recovery than plain tube Manufactured ...

electric water heater
PLUG-IN
Enamelled steel tank with two welded-in bare tube coils with fitted pump set and solar control unit Low installation effort, delivered ready to connect, pre-assembled solar control unit and pump set prevent installation errors Also available ...
See the other products
SOLARFOCUS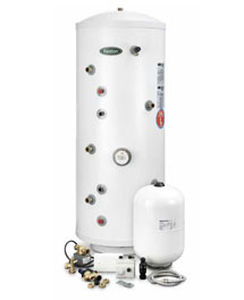 electric water heater
QSPA
... qSpa Basic Appliance - supplied Hot water draw off 22mm compression Temperature and pressure relief valve 95˚C/6 bar Hot water secondary return 22mm (not fitted to cylinders below 210 litres) Immersion ...
See the other products
Keston Boilers

electric water heater
011013
The Prepackaged semi-storage calorifiers are designed for where there is high-peak domestic hot water demand, but where there is intermittent demand and/or limited plant room space. Each unit incorporates a buffer vessel ...

The innovative design of the Tranquility Outdoor Split Series offers a variety of cost-saving installation options with a geothermal system. Since the outdoor unit replaces your current unit, you can connect directly to your existing ...
See the other products
CLIMATE MASTER

solar water heater
BOX SERIES
... and the magnesium anode provide protection against corrosion for a long time. Polyurethane foam and PVL covering guarantee thermal insulation of the boiler minimizing the heat loos. Sizes 150,200, 300 lt are available ...
See the other products
SUNERG SOLAR

solar water heater
DOMESTIC
... protection. The CFC-free polyurethane foam and the 5 mm strong synthetic leather foam coating provide a very good heat insulation. The cold water supply is transfered over a baffle plate from the ...
See the other products
SUNSET Energietechnik GmbH

electric water heater
SMART
The industrial water accumulator is used for heating and supply of warm water which is necessary for daily needs like washing and drinking. The size of the industrial water accumulator ...

electric water heater
SUPERSTOR ULTRA
The SuperStor® Ultra Storage Tank from HTP increases the storage capacity of any hot water system. The SuperStor Ultra Storage Tank efficiently maintains hot water, allowing heat losses of less than 1 ...
See the other products
HTP Inc.

electric water heater
GEISER-DOUBLE WALL
... Rigidpolyurethane foam CFC FREE 0.025 Wlm "K (For example the GX400D.I only loses 0.25 X perhourX DOUBLE WALL AISI 316L STAINLESS STEEL DHW TANK provides twice the protection against chloride concentration than AISI304L. MAINTENANCE ...
See the other products
LAPESA

electric water heater
TEMPEST STAINLESS
The Telford Tempest is our flagship stainless steel unvented cylinder. Over the years there have been changes in the hot water industry that have caused manufacturers to offer lower grade stainless steel to remain competitive. All ...
See the other products
Telford Copper Cylinders Ltd

electric water heater
DHW
Designed to provide large quantities of DHW immediately for maximum comfort levels.
See the other products
RED - www.red365.it - see MCZ Group SPA