How to choose this product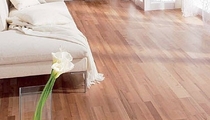 An FSC hardwood floor is one that meets the forest management standards established by the Forest Stewardship Council, a non-governmental organization. Thus, this flooring is made from wood harvested in a sustainable manner. Management practices must also take into account community relations and the rights of workers and indigenous peoples.
Applications
This flooring is used where respect for the environment is an important factor. Well-known organizations such as the World Wildlife Fund (WWF) recognize FSC certification.
Advantages
- Contributes to environmental protection