... have two sides, one of which is visible and can be sawn or natural quarry. Yhe visible edges are usually chamfered for a few millimeters so as not to leave sharp edges. The lenght of porphyry kerbs is ...

... standard elements are heat-isolating, weather and frost resistant. They are ideal for edgings of ervery kind. Content: 4 pieces with element connectors for 2,4m edgings

A popular range of edge restraint kerbing systems available from stock in a choice of colours. Designed to provide edge restraint in pedestrian and vehicular applications Colours complement Europa block ...


versatilely appiicable: as a bordering for stairs, for boundary fences or even for stabilizing small slopes due to the variety of colours and surfacesbailey palisades can be combined with many other products rinnit ...
See the other products
Rinn Beton- und Naturstein Stadtroda GmbH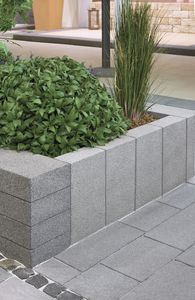 multifunctional concrete element perfect as bordering stele, kerb stone, wall block or step block suitable as a horizontal walling component up to 60 cm height, as a vertical walling component up to 80 cm height ...
See the other products
Rinn Beton- und Naturstein Stadtroda GmbH

garden edge
ETER-BOARD HD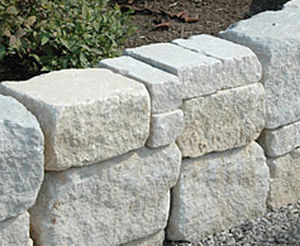 ... Limestone Garden Wall & Tumbled Edging. Fabricated from our high quality Full Color Blend Indiana Limestone, our garden wall can be used for distinctive site and retaining wall applications ...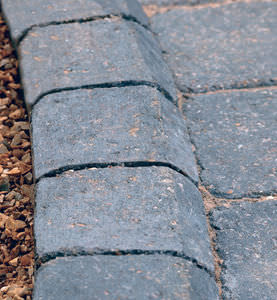 Giving your garden or driveway the edge. To finish your project in style our ReadyPave™ Kerb-Sett offers excellent versatility. Kerbs can be laid in three different profiles: 1 High Splay 2 Bullnose 3 ...

garden edge
MEGASAFE / MEGASPORT
The edges are an accessory to outline the flooring, play areas or areas marked for specific activities. They are available in linear and coupling versions. The sizes for the linear version are 1000x300x150 mm and 1000x250x50 ...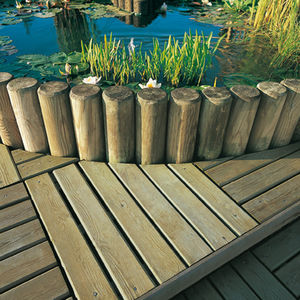 See the other products
Heinrich & Boch

See the other products
Heinrich & Boch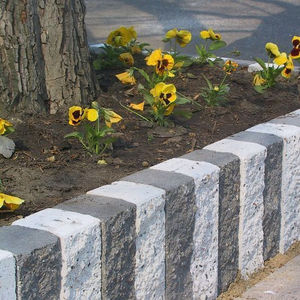 ... colour versions, provides customers with a wide variety of architectural options for their gardens, aesthetic boundaries of parking places, sidewalks and garden amenities.
See the other products
KB BLOK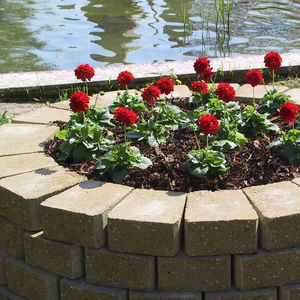 The ZIQ ZAQ BLOK is a very attractive, no-maintenance, environmentally-friendly system, popular due to its easy handling. Straight or variously shaped walls with bulged or concave curves can be built from the ZIQ ZAQ BLOK system. This ...
See the other products
KB BLOK

See the other products
UHL

See the other products
UHL

With its reversible shape, Stack Stone provides incredible design flexibility. Sweeping walls or straight walls. Angular planters or circular planters. Whatever you have in mind, you can make your vision come to life ...

See the other products
Plas Eco

See the other products
Plas Eco

A simple plastic edging ideal for creating garden borders. Available in green or terracotta.

... can dream up, you can create with this line of patio wall stones: beautiful and durable benches, decorative columns, grilling areas, flowerbeds, fireplaces, and more. The weathered texture and rugged edges ...
See the other products
shaw brick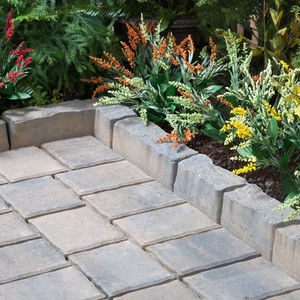 Physical Properties Meets the requirements of CSA A231.2 H1500 Compressive Strength 50 MPa at 28 days (Average) Minimum (MPa) 45 MPa at 28 days (Individual) Absorption 5.5% maximum Freeze Thaw Not exceed 1% weight loss
See the other products
shaw brick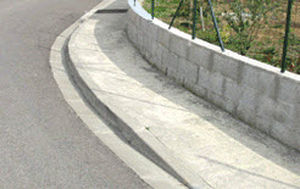 ... for use in areas where a natural and unobtrusive edging is required. Kerbstone will harmonise with gravel paths, as well as areas that have been laid in Tegula paving or textured flags. This versatile edging ...
See the other products
Tobermore

The versatile decorative edging system Kerbsett is an effective replacement for traditional edge restraints and is available in eight vibrant colours. This versatile edging can also ...
See the other products
Tobermore