How to choose this product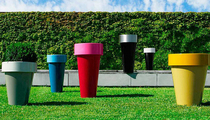 Garden pots are receptacles for plants and flowers. They differ from flower boxes in their proportions, the height exceeding the width. This makes them better suited to small trees than floral arrangements, though the latter are possible. Their depth offers adequate room for root growth, while their width provides enough space for several plants. Terracotta, plastic, metal and numerous other materials are used in their manufacture.
Applications
Such pots are often found on terraces and indoors, where planting in the ground is impossible. They are also used on lawns and in other garden areas for decorative or structural purposes.
How to choose
Consider carefully the number, size and nature of the plants. The many styles and materials include contemporary and traditional, plastic, terracotta and metal, among others.