How to choose this product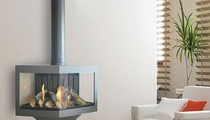 A gas heater is an effective heating appliance that does not require the fuel storage or cleaning chores of a wood-burning stove. Fixed units must be connected to a flue. Portable heaters need not be vented to the exterior, but good ventilation is important to prevent exposure to toxic combustion byproducts.
Technologies
Standard gas heaters have visible blue flames and rapidly produce a pleasant heat. Infrared models heat firebrick, which stores and progressively releases the warmth. Catalytic gas heaters are less powerful but safer. They produce heat via a process that reduces the emission of toxic gases, and which uses a ceramic fiber panel to radiate the heat.
How to choose
Choice will depend on space available for installation and venting, as well as the room's natural ventilation. Heaters can be wall-mounted, built-in, central or corner. Style options include traditional, modern, design and period. Ceramic, steatite, marble, aluminum and other finishes are available. Type and output should be suitable for the space to be heated.
Advantages
- Easy installation
- High output
- Practical
Disadvantages
- Toxic gas production