How to choose this product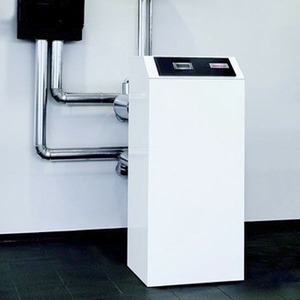 The geothermal heat pumps draws heat from ground water or the ground itself via horizontal or vertical intakes. The pump concentrates the heat for re-diffusion into a water heating system for home hygiene or central heating (radiators or radiant floor heating) or individual fan-coil units. ArchiExpo offers a wide choice of geothermal and aerothermal heat pumps.
Applications
The heat pump produces hot water for hygiene and space heating. There are reversible, heating/cooling models.
Technologies
The geothermal heat pump is a thermodynamic system using heat stored in the ground for home heating. Intakes transfer heat to the pump via a heat transfer fluid. Horizontal intakes extend over a large area at a shallow depth. Vertical intakes consist of two elements placed 10 meters apart; they descend to a depth of 20 to 80 meters. The pump transfers energy to heat water for home central heating via radiators or radiant floors, or via individual fan-coil units.
Advantages
- Efficient
- Uses a free, unlimited energy source
- Availability of reversible models
Disadvantages
- Requires yard space for installation