How to choose this product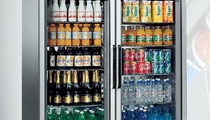 Glass door refrigerators are normally designed for professional use to display refrigerated products such as drinks, sandwiches and salads. They allow the contents to be examined without opening the door, saving energy and facilitating product location. They may be under-counter, compact or vertical. On ArchiExpo, these units are arranged by properties such as type (e.g., modular).
Applications
Such refrigerators are found in professional and commercial environments such as supermarkets, retail stores and bakeries, cafés, restaurants and bars, as well as hotels.
How to choose
Ensure that refrigerator capacity and the spacing between shelves is appropriate for the types of products to be stored. Determine the suitability of its size for the available space. Consider ease of contents access for staff or customers. Remember that the cleanliness and attractiveness of the refrigerator can enhance product appeal.

Check the sturdiness of fixtures such as handles, shelves, glazing and the door gasket. Verify energy efficiency, ease of cleaning and the terms of any guarantee or warranty. Casters increase mobility and facilitate cleaning.