The Online Architecture and Design Exhibition

contemporary kitchen
NOISETTE
... a modern and solid kitchen with meticulous care of details and finishes, made up of new elements, distinguished by light design and practical forms. No futuristic settings or dull modernism but comfortable and nice modern ...

contemporary kitchen
NEW NICE 1.0
Distinctive in the dominant glass white finish of the doors, New Nice offers an interesting refrigerated wine rack module, structured into shelves in tan colour ash for connoisseurs. Architecture and design are inspired ...
See the other products
Record Cucine

contemporary kitchen
SOFT LACK ARCTIC/QUARZ
Mat lacquered fronts in combination with a glass worktop are the key feature in a calm, urban look that underscores the airy openness of the room. Clever storage solutions create order, and create a tidy, calming atmosphere.
See the other products
Nolte Kuechen

contemporary kitchen
URBAN : SE 4004 E + SE 9009 ES
... size, continues to have passionate fans. Walls of glass, high-quality wood, and classic Scandinavian design mark the timelessly elegant ambience of this domicile. The clear graphic design of the kitchen ...
See the other products
SIEMATIC

contemporary kitchen
MONZA
... share the desire for combinations and diversity with you - the form of simple sophistication, contemporary style and love for kitchen design in perfection.

contemporary kitchen
ASPEN
... material that is soft to the touch. The choice of a modular kitchen with its modules of different widths allows for the creation of custom solutions, like the oak snack counter top that extends out from ...

traditional kitchen
FIRENZE
The splendour, aesthetics and techniques of the Renaissance relive in the design and solutions characterising the Firenze kitchen. Lines that evoke stately architectures while concealing in-depth research and planning, ...
See the other products
Torchetti Cucine

contemporary kitchen
MARINA 3.0 by Alfredo Zengiaro
MARINA 3.0. THE KITCHEN RETURNS TO THE SPOTLIGHT, CREATING THE PERFECT SPACE FOR CHERISHED MOMENTS AND SHARED MEMORIES WITH FRIENDS AND FAMILY IN THE HEART OF THE HOME. STRONGLY CHARACTERISED BY NEW ELEMENTS SUCH AS THE ...

contemporary kitchen
HOUSE DUESSELDORF
Kitchen matt lacquered icy-white, worktop quartz-glass
See the other products
eggersmann küchen GmbH & Co. KG

contemporary kitchen
AK_06 6 by Franco Driusso
Ak_06 offers a range of 8 finishes, all with great aesthetic impact and high functional performance. The expressive possibilities range from the use of supermatt melamine, available in 2 solid colours with a matte finish, and the 3 types ...
See the other products
Arrital

contemporary kitchen
VERA/VETRINA
... new ALNOVERA kitchen range in high gloss black: a contrasting interaction between glass and metal, its high-gloss doors have an all-round jointless solid metal frame in stainless steel effect. Combined ...
See the other products
ALNO

contemporary kitchen
VITRA
Door with smooth or stave glass, propose near to the topical style, new design and new unequivocal expressive power become this kitchen unique. Exclusive sign in the finishing and new aesthetic solution ...

contemporary kitchen
SURFACES 01 COLLECTION (KITCHEN)
... applied to lacquered (Madras®Lac) or silvered (Madras®Silver) glass create a range of value added effects not possible with other materials. And they maintain intact the unique properties of glass, ...
See the other products
VITREALSPECCHI SPA

contemporary kitchen
TOPOS
... structure and vital-looking surface to advantage in Concrete and, in combination with glass and wood, has created elegant kitchen architecture. Enjoy the new kitchen island with integrated table.
See the other products
LEICHT

contemporary kitchen
MACASSAR
... to craftsmanship, have been interpreted to create a kitchen that blends classicism with cutting-edge design. The Macassar kitchen collection combines the finest Soanean materials, such as mirror, glass ...
See the other products
Smallbone & Co

contemporary kitchen
SEGNO by Marconato & Zappa
... considerable thickness of this range gives value to the material and the tact just like the fundamental and primary sense in the kitchen. Perfect combination of functionality and sophistication, elegance and glamour. ...

contemporary kitchen
SPACE B
A geometric handle suitable for who loves modern kitchens It is a new integrated handle and it offers a good grip. Through its geometrical shape, it substitutes visually the effect of a recess grip on the structure. ...

contemporary kitchen
AERO
The Aero Glass Range is made with a tempered and vitrified safery glass. The frame is made with a high density moisture resistant MDF board with a machined soffit to ensure tensional stability. The glass ...

contemporary kitchen
RAINBOW by Vuesse
... and contemporary living, the Rainbow kitchen in the Happening range available with flat slatted doors and wooden framed doors in 10 different colours, laminate and lacquered doors in several shades and even with glass ...

contemporary kitchen
K_GOCCIA
A modular system for your kitchen project Meson's was one of the first Italian companies to revolutionize the concept of kitchen, changing from a traditional view of the range divided into "models" for ...
See the other products
MESON'S

contemporary kitchen
CONCHIGLIA
... lacquered with smooth central panel (Conchiglia Flat) or diamond moulded edge (Conchiglia Gem). Glass in Trend color collection or ral lacquered. Glass panel is available also in reflective ...
See the other products
SCIC

contemporary kitchen
SYSTEM COLLECTION
The design of kitchen spaces has changed: now it goes from functionality to sensory involvement, from technology to coordinated images. Components characterized by quality, design, shape and function, and by coupling ...
See the other products
Pedini

contemporary kitchen
SMART
A fresh and young kitchen, with a great care for details. Door finish: Yosemite colour white, thick. 22 mm. Glass wall units with aluminium internal frame. Wall-units depth 34 cm (thick. of door excluded). ...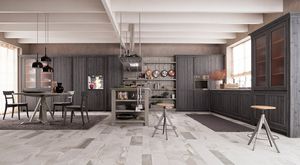 traditional kitchen
MAESTRALE M02
... corner kitchen made up of base and tall units. Grafite finish for the ceiling-hung cooker hood, the base and tall units. Ardesia wall panelling, table and peninsula. The 4-cm thick worktop is in natural stone. What ...
See the other products
Scandola

contemporary kitchen
MOD 0
... features for your kitchen essentials. The sleek and seamless look with a streamline design. Doors open laterally allows less obstruction to the walkway when opening and closing the storage cabinet. This is perfect for ...
See the other products
Alustil