How to choose this product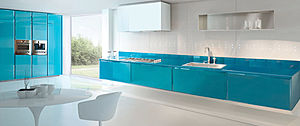 A glass kitchen is a bit more delicate than those of wood, veneer or laminate, and requires greater care. However, contrary to popular conception, it is more than strong enough to handle all manner of daily activities. Modern glass technology makes this material surprisingly heat-resistant.
Applications
Kitchens are used not just for food preparation, but also for the storage of ingredients and cooked dishes. They also may include a bar or table for eating. Because glass kitchens are by nature modern, this material is hardly ever used in the fabrication of traditional or classic kitchen elements.
Technologies
The glass used for these kitchens is tempered by subjecting it to sudden cooling after heating. This makes it heat- and impact-resistant.
How to choose
Choice will depend on desired durability, budget, space available and configuration (e.g., with or without island).
Advantages
- Easy to maintain
Disadvantages
- Less sturdy than other materials