Glass staircases
23 companies | 73 products
How to choose this product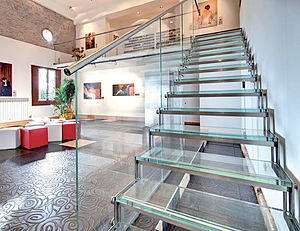 Glass staircases have become a reality thanks to technical advances in glass treatment and construction methods enabling its use in structural elements. Formerly, glass was used for decorative or accessory parts only, including handrails and balusters.
Technologies
For safety purposes, the glass used in staircase construction is usually treated in one of two ways. Laminated glass consists of glass layers joined by a sheet of PVB. If the glass breaks, the fragments remain stuck to the plastic sheet. Thus, it is considered shatterproof.

Glass is tempered by gradually raising its temperature to about 600° C, then suddenly cooling it. This toughens the glass. If broken, it fragments into globular pieces rather than shards with sharp edges.
Advantages
- Modern
- Luminous
Disadvantages
- High-maintenance
- Can become slippery