The Online Architecture and Design Exhibition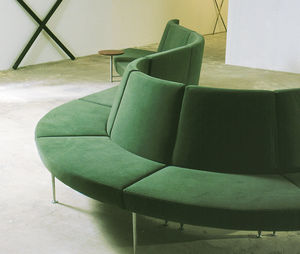 modular upholstered bench
C.D. LOBBY PLUS by Harri Korhonen
Modular sofa for lobbies and vaiting areas. Various mathing elements which allow to create different forms and best use of available space. Seat elements are matching in size and style with C.D. Lobby. Legs epoxy coated steel. Side ...

classic upholstered bench
ASIE
Balanced and solemn shape and a firmer garnishing for this remarkable bench two seats which ornamental elements are inspired by the Imperial aesthetics. It is however clearly Asian in style with such a bamboo-like base; ...

contemporary upholstered bench
AUSSIE : 62544 by Paul Von Sas
Maple frame with upholstered top, with shelf and rails. 62544 – W44, D22.75, H20.75

contemporary upholstered bench
HEGOA
... to transform it, make it longer and more conmfortable, turn it into a double deckchair to enjoy the sun. They can also be benches or coffee tables once the cushions are removed. All pieces are very easy to assemble ...

modular upholstered bench
HM42 : A & B by John Coleman
Ideal for public area, short-stay and gallery seating, Coleman's hm42 is a generously-proportioned modular bench system based on the plan-form of a half-hexagon that can be arranged and linked in endless permutations. ...

contemporary upholstered bench
BELLE ETOILE
A neoclassical icon par excellence has been reinterpreted by the Italian brand Serralunga with French designer Andrée Putman. This led to the creation of "Belle étoile", contemporary, refined furniture that is comfortable and goes beyond ...

contemporary upholstered bench
FLOW : 512-QT
The Flow Modular seating system was conceived with the objective of giving designers the tools for breaking through the square grid and freely create interesting curvilinear architectural spaces, in lobbies and waiting rooms.

contemporary upholstered bench
STAY by Nika Zupanc
... theatrical touch to social gatherings; the upholstered Armchair and Sofa make an irresistible invitation to sit, the dream-like Stay Daybed encourages peaceful reverie and the Stay Barstool and Stay Benches ...

modular upholstered bench
ONDA by Marco Maran
Harmony of fluid and sinuous curves. Dune is a collection of three different padded, modular seats which can be grouped together in various ways. It imprints its environment with a touch of vivacity and freshness with a strong visual ...
See the other products
Sedex srl

Scandinavian design upholstered bench
JAPAN
Finn Juhl's partnership with the furniture manufacturer France & Son gave birth to a series of furniture well-suited for industrial production, while staying true to the ideals of simple designs that reigned in the 1950s. The most ...

Gustavian style upholstered bench
GUS 061
Hand carved and hand painted Solid wood, FSC certified teak Available in a choice of colours and finishes Size: H17/W56/D12 in Size: H43/W142/D30 cm

contemporary upholstered bench
X04 by Luca Tomei
Easy to position thanks to its reduced size, it is suitable for public locations, businesses and houses. P cm. 125 / inch. 49,21 L cm. 125 / inch. 49,21 H cm. 72 / inch. 28,34
See the other products
Foam Tek®

contemporary upholstered bench
GENOVA
Painted steel base with cushion options satin stainless steel construction available.

contemporary upholstered bench
FREMONT : #E1402G8
... and tables available with solid wood or brushed steel legs | Tables feature high pressure laminate tops with stunning upholstered bases
See the other products
Lesro Industries

contemporary upholstered bench
AHLAN by Charles Kalpakian
... East and Ahlan bench, with its coating of fabric and stitching its hooks system, an invitation to share a moment of conviviality. MATERIAL Structure in beech wood, foam packing. Exterior dark blue, azure blue cushions, ...

contemporary upholstered bench
LARA: 656 by Studio Tipi
Enveloping, extra-large sizes and discreet elegance for a highly successful collection. Available in the version without arms or with a single arm (right or left). The shell of the models 650, 651, 652, 660 is in injected foam, fireproof ...

modular upholstered bench
OPPOSIT by Nils Van Der Celen
D 70 cm 70 cm 143 cm 94 cm W 50 cm 125 cm 143 cm 125 cm H 71 cm 71 cm 71 cm 71 cm SH 40 cm 40 cm 40 cm 40 cm MATERIALS foam, coating

original design upholstered bench
HYDE
The Hyde Bench is a fully upholstered stacking bench seat that is suitable for breakout spaces, reception areas, educational environments and informal meeting areas. Using modern technology ...

contemporary upholstered bench
FOSTER®
Our Foster® Guest chair built for two. Features a steel frame construction, webbed seat suspension and sloped half-height arms to make waiting more comfortable.

modular upholstered bench
LINK by Sara Larsson
Link is a flexible furniture designed to encourage creative spaces and meetings. The Link seat unit can be placed separately or joined together in various formations depending on the context and the size of the room. Airports, receptions, ...
See the other products
A 2 designers

contemporary upholstered bench
BORGHESE
Borghese Sofa is a sculptural piece directly inspired and named after the pine trees of the Villa Borghese gardens in Roma. The characteristic network of branches is translated as a graphic steel framework to support a trio of cushion. ...

modular upholstered bench
COURAGE
Courage is a modular based system with seating elements and backrests that can be endlessly combined. The graphic simplicity comes from the design brief asking for a generic product based on the golden ratio. The different elements have ...

traditional upholstered bench
LOVE
The colouring of leather by hand involves exceptional skill and is undertaken only by a handful of highly skilled upholsterers. The dyes are mixed and gently massaged into the leather which is then allowed to dry. This process is repeated ...

contemporary upholstered bench
PRINCESS
... its many mattresses. It's the ideal divan for children's and guest rooms. This divan can be made to measure, footstool -or bench-sized. Stained wood legs. 190x90x46cm Each sofa and chair is made to order for you, ...

contemporary upholstered bench
BARR CUBE SYSTEM
Description a bench of clean, straightforward lines, the barr cube system can be positioned together in various size options and different layouts to accommodate simple everyday changes. with its characteristic crease ...