The Online Architecture and Design Exhibition

metal cladding
CASCADE™ : CC-200
CASCADE CC-200 interchangeable single-skin metal panels have one 1½" deep rib which are marked by a striking signature curve and a bold flat slope profile. CASCADE Metal Panel System creates a depth of shadow that offers a ...
See the other products
Centria Architectural Systems

ceramic cladding
CERAM 20
Extruded hollow-core tile of ceramic pasteSection of a tongue-and-groove piece, it can be placed horizontally and vertically.Height: 200 / 250 / 300 / 400 / 500 mm. between axes.Length: up to 1200 mm. (between axes).Thickness: 20 mm.Weight: ...
See the other products
FAVETON

pre-coated aluminum cladding
ANOMAX
AnoMax is a range of pre-coated finishes matching the EURAS anodizing standards. The combination of the anodizing look and the benefits of pre-coated aluminum allows new architectural possibilities. AnoMax distinguishes itself with ...
See the other products
EURAMAX COATED PRODUCTS

metal cladding
DÉCOR-FLUSH ®
This attractive concealed fastener system is ideal for soffit, fascia and vertical wall applications. PANEL SPECS For Soffit, Fascia and Vertical Wall Applications Only Perforation Available Substrate Offering: .032″ Aluminum and 24 ...

aluminum cladding
LIBERTA™ ORIGINAL 102
Create a genuine and distinct layout with Liberta™ original 102 rainscreen panel for ventilated steel and aluminium facade systems. Be inspired! Experience the shape and its details on the finished facade surface. Energise your facade ...


Packing units 22/120 1 package with 110 bundles 5 pieces each = 550 pieces 12 packages with 110 bundles 5 pieces each (1 complete loading) 22/150 1 package with 88 bundles 5 pieces each = 440 pieces 27/150 1 package ...

aluminum cladding
PAINTED
Available in any color, with the ability to match colors of your choice without expensive upcharges – Dri-Design Painted Aluminum Panels offer the ultimate design flexibility for exterior and interior applications. Panels are painted ...
See the other products
Dri Design

cement-glass composite cladding
SHOPPING CENTRE - LE PLESSIS BELLEVILLE
4,600 m² of mass coloured self-supporting glass fibre reinforced concrete (GFRC) panels cover the façades of this shopping centre.

metal cladding
LYSAGHT EASYCLAD®
The LYSAGHT EASYCLAD® wall cladding is a stylish solution for both interior and exterior steel walling applications. Simple clips are used for fixing the start of the first sheet, subsequent sheets are nailed or screwed. ...

porcelain stoneware cladding
ROW CUBE

polymer cladding
NOVISHAKE™ RS
Replicates the deep-grained look and feel of real roughsawn cedar shingles with added performance and characteristics that will withstand the test of time. Made of injection molded polymer for superior quality. Resists warping and impact ...
See the other products
NOVIK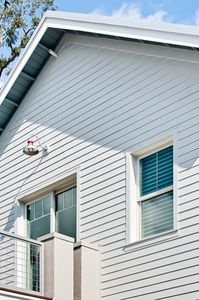 fiber cement cladding
HARDIELINEA™
... facade, creating unlimited possibilities for architects, house-builders and homeowners alike. You can rely on HardieLinea cladding to deliver unsurpassed protection against outdoor elements - it's perfect for demanding ...
See the other products
James Hardie - France

composite cladding
ALPOLIC®/HD
Heavy-duty ALPOLIC®/HD panels are manufactured with 0.032" top and bottom aluminum skins for added rigidity and strength. They provide superior yield and tensile strength, with over five times the flexural elasticity strength of our standard ...

concrete cladding
PALLAZO ITALIA by Nemesi & Partners
... Dassault Systèmes Creator and Technical Director of Construction site Tender 4: arch. Sergio Zambelli Architectural concrete cladding designer: eng. Claudio Pagani Professionals involved: 104 Months of work: 14 Place ...
See the other products
Styl-Comp

grooved cladding
CONVEX KS600-1000CX
You don't have to blow your budget to be impactful with convex. Its shadow lines are perfect to give your building that 'je ne sais quoi' while still being cost effective. Convex is available in Kingspan Spectrum and Kingspan XL Forté ...
See the other products
Rigidal

Light. Air. An impression of weightlessness. The Pflaum Linear façade system transforms any façade system by the interplay of these elements. Refurbishment, recon struction, extension or building from scratch the Pflaum façade system ...

The historic range of Silverwood Discover the 7 essential coulours of the brand reference in external cladding for more than 20 years, recognised by all for its simple & timeless architecture.
See the other products
Silverwood

Solid Surface cladding
WESTFIELD ZARA
HI-MACS® is not only excellent indoors, but is also ideal for use on façades and as cladding, firstly due to its visually seamless joints and, secondly thanks to its extensive range of colours that have excellent resistance ...

wooden cladding
ARLESHEIM
... Arlesheim has a hybrid design. The warehouse and workroom façades are made up of prefabricated curtain façade units. The façade cladding comprises horizontal diamond-shaped formwork of untreated larch in 3 different widths. ...
See the other products
Haring Engineering Ltd

composite cladding
CDECK®
CDECK is a range of innovative products that results from several years of research and development of composite materials for high performance. Designed to withstand the most demanding weather conditions, the CDECK composite is the ...

terracotta cladding
LESLEY UNIVERSITY - LUNDER ARTS CENTER
The Shildan/Moeding ALPHATON® Panel is an extruded, double leaf, 30 mm (1.18") terracotta panel. The increased strength of the panel is derived from a chain of internal I-beam supports. In order to meet every design challenge, the ALPHATON® ...
See the other products
Shildan group

The facades built in acrylic provide a natural protection to UV rays and a great thermal and acoustic insulation, being a good choice for this type of applications available in a wide range of colors.
See the other products
Polimer Tecnic

bamboo cladding
ZIYANG by Zhang Hongxia

Green Plank® low-density wood composite facade cladding (solid profile) with tongue and groove, PRIMA™ GP799 provides a sustainable and environmentally friendly alternative to solid wood panels. PRIMA™ solid facade panels ...