How to choose this product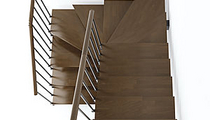 The half-turn staircase (U-shaped) uses two parallel flights to optimize use of space. Some have a landing between the flights.
Applications
These staircases can run along a wall, be situated in a corner or in the middle of a room. An attractively-designed stairway in a central location can become the focal point of the space.
Technologies
Half-turn staircase treads and structural elements can be made of wood, glass, metal, concrete, steel and even marble.
How to choose
Choice will depend on available horizontal and vertical space, location, design, use and materials.

Exterior models must be made of materials suitable for exposure to inclement weather. Stairways in high-traffic areas, such as public buildings or shopping centers, or intended for emergency use, will have different dimensions and design requirements than those in homes. Applicable standards and regulations must be observed. If seniors or children will use the stairs, particular security measures must be incorporated into their design.