How to choose this product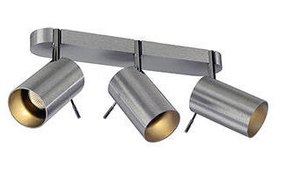 Halogen spotlights differ from others in several ways. Their output is higher and it is easy to adjust their brightness.
Applications
These fixtures are often used with modern decor and to illuminate store and shopping center exteriors. Their growing popularity is due, in part, to the competition among manufacturers to offer increasingly ingenious designs. They are particularly favored for illuminating paintings, furniture and other works of art in museums.
Technologies
Spotlights are differentiated primarily by bulb type. A halogen bulb produces incandescent light running on typical house current or via a transformer for low-voltage models. Its only drawback is the emission of UV rays, which can cause eye damage and altered color rendition on certain surfaces.
How to choose
When choosing a halogen spot, there are several rules which must be followed. If the illuminated surface is flammable, the bulb must sit at least 50 centimeters away. There must be a minimum of 20 cm between the transformer and the bulb and no less than 10 cm between the fixture and the ceiling. Wiring must be run through corrugated, self-extinguishing conduit.
Advantages
- Dimmable
- High output
- Constant brightness
Disadvantages
- Elevated cost
- High heat output
- High energy consumption