How to choose this product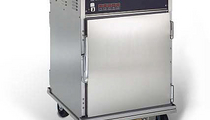 A heated holding cabinet keeps food warm so that it can be served or sold at the correct temperature.
Applications
Such equipment is found in bakeries, restaurants, bars, fast-food outlets and other food service establishments.
How to choose
Choice will depend on the amount of energy the device consumes, the number and size of its compartments, the system of heat circulation and the possibility of adjusting internal humidity. The temperature of each compartment can be controlled separately.