How to choose this product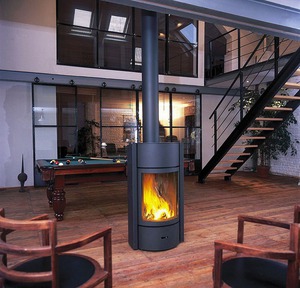 A stove is a radiant heating appliance consisting of an air intake, a flue, a firebox (generally closed) and chambers for recovering heat from the smoke. The firebox and recovery chambers have apertures to distribute the heat into the room by radiation or convection.
Applications
Options include wall-mounted, built-in, central and corner.
Contemporary models have simple, pure lines and discreet decoration. Traditional stoves usually have legs and detailed relief ornamentation.
Technologies
Energy source: wood, wood pellets, gas, bioethanol, electricity, oil or mixed. Finish materials include ceramic, steatite, marble and aluminum.