The Online Architecture and Design Exhibition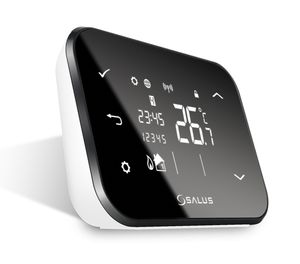 • Access and control your heating and hot water via the internet • Compatible with your PC or Smartphone • Your PC and Smartphone connects to the system using your existing broadband connection • The internal system ...
See the other products
Salus Controls GmbH

... brighter way to save energy. Meet the 3rd gen Nest Learning Thermostat. It's slimmer and sleeker with a bigger, sharper display. And it saves energy. That's the most beautiful part. Your thermostat ...

programmable thermostat
2026
Universally applicable for handling CH boiler and electrical appliances. Recommended for the control of underfloor heating. The new model has been enhanced with a number of new, useful features: intuitive weekly programming ...
See the other products
EUROSTER

programmable thermostat
TRT R1T
... surface mounting This thermostat controls the temperature in your rooms product features: Color white on surface mounting Timer and I/O switch 1 shutter temperaturelowering (TL) programmable, e.g. 5 K for 7 hours LED ...
See the other products
TECHNOTHERM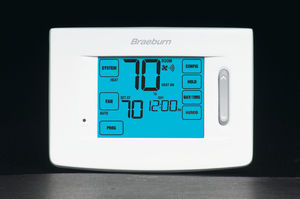 programmable thermostat
BLUELINK
Description Smart Wi-Fi Universal Thermostat Compatibility Conventional, Heat Pump Staging 3 Heat / 2 Cool Display Size 6.5 Sq. In. Programming 7 Day, 5-2 Day, or Non-Programmable Power Battery, Hardwire* Terminations ...
See the other products
Braeburn Systems, LLC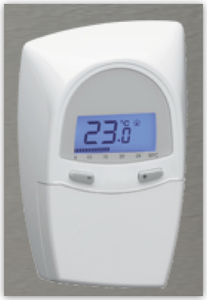 See the other products
Lucht LHZ Elektroheizung GmbH & Co. KG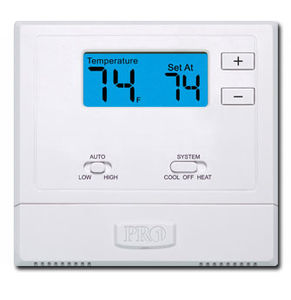 room thermostat
PYRCUCA0B
Wired or Wireless PTAC Thermostat Affordable Comfort Control High and Low Speed Fan Heating and Cooling Set-point Limits Battery or 24v Power (Wireless) Room Temperature Calibration Adjustment ...

room thermostat
FLUSH-MOUNT
Digital thermostat with advanced temperature and fan speed control. Flush-mount version (compatible with most popular plates) or wall-mount. Equipped with 1 input and 5 outputs.
See the other products
GFP Lab

mechanical thermostat
RADIATOR THERMOSTAT
... switch on the heating and when it can save energy. Greater convenience together with energy savings no problem with the RWE SmartHome radiator thermostat. How does the RWE SmartHome radiator thermostat ...
See the other products
RWE

programmable thermostat
KRC-PLUS
Kit for direct expansion A/C and heating systems The FREE-COOLING application for the control panel KRC-PLUS means the development of zoning systems to the rationalization of energy use and management of air quality ...
See the other products
MADEL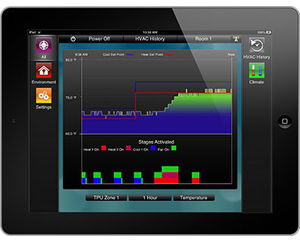 ... Wireless Thermostat (SST-W100) is a WiFi enabled digital thermostat designed to control Heating, Ventilation and Air Conditioning (HVAC) systems within any residential and commercial ...

room thermostat
HVAC INTERFACEPOINT
The interface is a versatile bridge between the Vantage Infusion system & HVAC systems. Thanks to the HVAC interfacepoint the homeowner can fully control the temperature in and around the house. The Vantage HVAC InterfacePoint makes ...
See the other products
VANTAGE

The WMZ-G1 is a measurement and display unit for solar thermal systems and conventional heating systems. It is possible to connect up to two Grundfos Direct Sensors™, which measure the temperature as well as one additional ...
See the other products
RESOL Elektronische Regelungen GmbH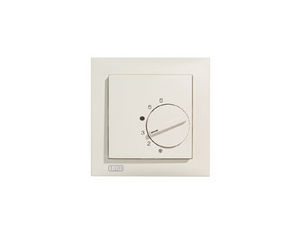 Thermostat with thermal feedback. Switching current 5A. Temperature range 5-30°C. Switching temperature deviation 0,5K. Temperature reduction approx. 4K via an external switch. Housing colour alpine white, mounting ...
See the other products
Emco Bau- und Klimatechnik GmbH & Co. KG

Single pole and double pole Heat only, cool only, & heat or cool DP models include positive off Celsius and Fahrenheit temperature scale Optional Thermometer 22 Amps, 277 Volts AC
See the other products
Markel

programmable thermostat
TH 0482/12V
Thermostat TH 0482/12V, control EB-C, for heating and cooling (dimensions: 70x30x120mm)
See the other products
ROCCHEGGIANI SPA


Ideal for providing accurate feedback on a room by room basis. The perfect partner for your ENOCEAN heating modules, allowing you to better control your heating throughout your home. - Indoor use only - ...

Ideal for managing domestic heating systems, it allows you to control all of your EnOcean heating modules. Programmable from your Smartphone or computer, the thermostat can manage up ...

IMMERSION ELECTRIC RESISTANCE in stainless steel with electrical separation, external thermostat and integrated temperature limiter.

Modifies heat stages and fan speed depending on temperature and selected program Only electrical heated models

The thermostat features an updated look and five-day programming, plus weekends, in addition to normal thermostat mode.
See the other products
QUADRA-FIRE

ALPHA 7D • 7-day programmable room thermostat (60-minutes) • Built-in heating programme. • 4 modes of operation: auto, advance, off, party. • 3-temperature selections – comfort, economy, frost. • ...

digital thermostat
3.021622
Available for all models. Class of device IV* or VII Contribution to the environmental heating seasonal energy efficiency 2%* or 3,5%

programmable thermostat
AFFINITY™ HX™
Complete control at home or away via your smartphone. Stays up-to-date automatically through Wi-Fi® connection. Seamlessly connects to any communicating or conventional/non-communicating HVAC system. Pre-set modes provide quick access ...
See the other products
York