How to choose this product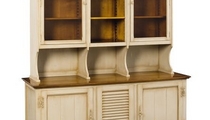 A high sideboard is a piece of furniture with storage above and below a flat work or display surface. It may be chosen over low sideboards for its efficient use of floorspace. It also has a bigger impact on the room.
Applications
A high sideboard may be used for storing and displaying tableware and other items in dining or living areas. It is sometimes used in commercial areas, such as restaurants, to display objects and information.
How to choose
When choosing, consider space requirements and whether the storage compartments suit the intended use. Appropriate restaurant sideboard design may include drawers for cutlery and glazed upper cupboards to display glasses or tableware.

Determine whether the sideboard will be a focal point or simply one element in an ensemble. Its style should fit well with that of nearby furniture. Maintenance needs and options such as resistance to scratches, stains, heat or water are other factors to consider.