How to choose this product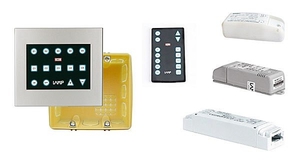 A home automation system is designed to facilitate the control of multimedia, heating, lighting and other electronic installations or appliances from a central point. Settings may be adjusted at a control panel, on a computer or remotely via the Internet. On ArchiExpo, such devices are arranged by function (e.g., lighting, doors and gates, multimedia, etc.).
Applications
These systems improve security, control climate, save energy or automate domestic tasks, such as watering plants, closing shutters, turning off lights. Models with an Internet link allow the user to adjust lighting, temperature and other parameters before returning home.
How to choose
Consider purchase price, maintenance costs, ease of installation and whether extra electrical cables will be required. Additional electrical equipment may be very costly, especially if the system is integrated into walls or partitions.

Determine needed functions, including the number of rooms to be connected. For example, a security system may require movement detectors in several rooms. Verify ease of use, especially if system settings will be modified frequently. Some control panels have a graphical user interface (GUI) to facilitate use.
Advantages
- Saves time
- Improves comfort or security
Disadvantages
- May be expensive to install
- May be expensive to maintain