The Online Architecture and Design Exhibition

natural cork wallcovering
PRIMECORK
This rich natural cork skin provides a classic look to the interior walls of any space. Its warm and comfortable look makes it compatible with every decoration style, from the modern to the very traditional. This natural skin of silky ...
See the other products
Muratto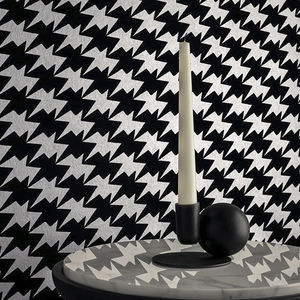 home wallcovering
ZIG ZAG BIRDS
... is set to be a popular choice, a contrast between printed ground and flocked motif adds to the intrigue of this striking wallcovering." – Jordan Mould Width 68 cms (26.8 ") Pattern Repeat Vertical: 7.0 cms (2.8 ")
See the other products
Kirkby Design

laminate wallcovering
ULTRABLEND STAIRTREAD
Roseburg UltraBlend Stairtread features a highly refined, smooth surface and tight, uniform core with a bullnose edge. UltraBlend particleboard is a premium quality, mat-formed, multi-layer panel that is made of precision refined wood ...

natural cork wallcovering
AALBORG
Using cork tiles for indoor wall coverings is an option that makes sense: you improve the conditions of thermal and acoustic comfort, and you choose an exclusive and natural decoration. The range of patterns and colours is extensive, ...
See the other products
supracork

Colored glass panels for wall coverings. The extraordinary quality of glass is easily available with the SHOCK series of panels. ARTELINEA's vast experience has enabled SHOCK to be developed, creating panels with highly aesthetic results ...

teak wallcovering
RINJANI
Recycled teak wall panel with structure combination of small slices, erosion slices in the each panel. - Solid recycled teak panel - Thickness 16mm - 23mm - 1 box 8pcs = 1.008m2 - Interlocking design
See the other products
TEAK STORY

marble wallcovering
PANAMA
See the other products
KREOO

wooden wallcovering
GOLDDECOR JULIA
Simple and effective! Anyone looking for a simple wall-panel solution can just affix a second upper border on the wall and paint everything in the same color, transforming the high baseboard into wall paneling. The baseboard is available ...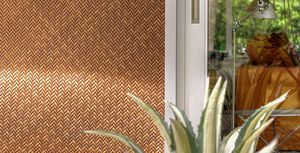 synthetic fiber wallcovering
VIROSURFACE™
Virosurface™ is the age-defying, high-performance indoor/outdoor wall coverings that are non-toxic and UV tested. These fibers are fully water-resistant and insensitive to sun, chlorine and harsh weathering. Its beauty never fades. Available ...

concrete wallcovering
MASTERS : MDM12
See the other products
Creation sud

vinyl wallcovering
SANDRO™
NSF/ANSI 342 Certified Yes Weight and Type 20 oz. Type II Backing Osnaburg Repeat Information 11.625" Vertical/ 14.5" Horizontal Match Information Random Reversible Reversible Width and Put-up 52/54"/30 Lineal Yard Rolls
See the other products
DeNovo Wall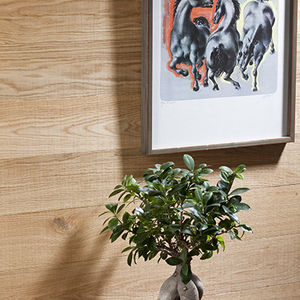 Inside WALL COVER french oak factory-finished full strip, ready to lay Thickness: 11,5mm Widths: 140 mm Lengths: 1 800 mm (ou autres), avec rainure languette, fixation par clips Top layer: 2 mm, support HDF
See the other products
CHENE DE L EST

Murano glass wallcovering
AVORIO
Just like an haute couture gown, Murano glass is handcrafted to "dress up" any type of surface from walls to furnishings.

vinyl wallcovering
BC1581964
SKU#: BC1581964 PRICE: 27.99 / USD Priced in Single roll. Package and sold in Double Rolls. COVERAGE: 56 Sq f per double PRODUCT TYPE: Sidewall MATCH: Straight REPEAT: 8.5" SUBSTRATE: Solid Vinyl CLEANING: Scrubbable REMOVAL: Peelable WIDTH: ...
See the other products
Design by color

glass wallcovering
DECORAN® OCEAN BLUE POLISHED
Design is the appropriate combination of materials in order to solve a problem.

concrete wallcovering
BROWNS
... and fungi and are an excellent alternative to tiles. Senso's seamless wall covering bring something totally unique to your home.
See the other products
SENSO

metal wallcovering
PURPLE GOLD
Rectified textured white body metallic ceramic tile for internal walls With the Purple series, we present a collection which combines outstanding technical innovation, creating a surface where a combination of metallic crystals generates ...

concrete wallcovering
MICROCONCRETE
... personalized works of art, greatly enhancing the entire home decore. Its features allow you to create continuous surfaces giving free rain to the creative designer. Its the ideal for showrooms, exclusive homes, ...
See the other products
Pan neto

stone wallcovering
BIANCO CAVE
Bianco Cave combines the design excellence with a wide selection of materials colours, sizes and quality manifacturing. Bianco Cave with its products, decorates elegant outdoor spaces. Our company produces small bricks using for the covering ...

Precious handiworks are manufactured by skilled stone masons.These items will give the most common places an original and refined look. Shapes and dimensions of these products perfectly match with the requirements of each single project ...
See the other products
CAVE BONOMI

stone wallcovering
SPECIAL WORKS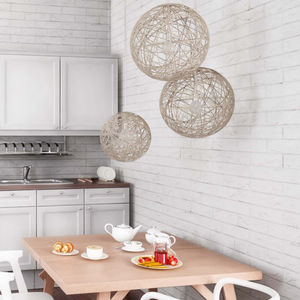 vinyl wallcovering
MOTIVO
Decorative wall is a new quality brought to your place. Unique design with surface of 2.7 sq m made in 3D technology gives unlimited possibilities for arrangement. Highest quality, 100% waterproofness, quick and simple installation ...

linoleum wallcovering
ITALIAN RENAISSANCE
First introduced in 1896, a dramatic feature design, ideal for creating a bold and opulent statement ROLL DIMENSIONS: 533mm (21 inches) x 10m (11 yards) DESIGN REPEAT: 1016mm (40 inches) Straight Match
See the other products
Lincrusta

wooden wallcovering
WILLOW
... synthesis of commercial and residential, industrial and rural is also reflected in the design of home offices, which seek to combine the comforts of home and a change of scenery during work, regardless ...
See the other products
itaibaron

fabric wallcovering
SWALprint® Wall Covering
Up to 5m bright and unlimited length, SWAL prints the visual you dream of. Impression on SWALtex Expert Pro. We are able to print on acoustic fabric.