Horizontal axis wind turbines
How to choose this product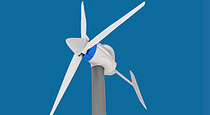 The horizontal axis wind turbine, the most efficient type, has its rotating shaft parallel to the ground. Since its blades rotate in a plane perpendicular to the ground, the longer they are, the taller the tower must be. Different models provide a wide range of power output.
Applications
Large turbines are used in wind farms to supply power to an electrical grid. Small models can be used to power homes, businesses and in other settings.
Technologies
The turbine blades are oriented such that the wind strikes them before blowing past the mast to avoid being affected by turbulence created by the tower.
Advantages
- Variable-pitch blades
- Can handle higher wind speed
Disadvantages
- Inefficient close to the ground
- Large models are cumbersome
- Tall masts can affect radar
- Require orientation into the wind
29 companies | 99 architectural and design products
2 products HETRONIX
Small threebladed
KEITH 2K

HETRONIX
Using wind power energy proved most effective in power generation. Hetronix has developed the ultimate small windturbine collecting the most kWh of nature's Green Energy for an average household. As a...
Small threebladed
KEITH 2K HYBRID

HETRONIX
Keith_2K series is the Premier WindTurbine manufactured by HETRONIX: Highest WindPower yield, State-of-the-art technologies & Aestetic Cool At just 2.5 meters diameter...
1 products Tozzi Nord
Small threebladed
TN535

Tozzi Nord
Tozzi Nord synchronous generator system with permanent magnet and multiplier belt minimizes electromechanical losses and maintenance...
2 products SUNSET Energietechnik GmbH
Filter by :
› New products

(0)

› Products with video

(18)
Extend the search
Search by catalog