How to choose this product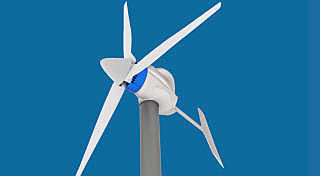 The horizontal axis wind turbine, the most efficient type, has its rotating shaft parallel to the ground. Since its blades rotate in a plane perpendicular to the ground, the longer they are, the taller the tower must be. Different models provide a wide range of power output.
Large turbines are used in wind farms to supply power to an electrical grid. Small models can be used to power homes, businesses and in other settings.
The turbine blades are oriented such that the wind strikes them before blowing past the mast to avoid being affected by turbulence created by the tower.
- Variable-pitch blades
- Can handle higher wind speed
- Inefficient close to the ground
- Large models are cumbersome
- Tall masts can affect radar
- Require orientation into the wind