The Online Architecture and Design Exhibition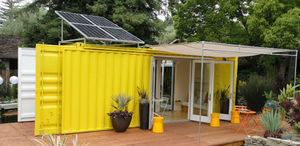 container house
C192 NOMAD
Sunset Magazine, a lifestyle magazine focusing on the Western US, featured a c192 Nomad as their Idea House, the first and only shipping container home to win that award. With rooftop solar power for ...
See the other products
cargotecture

prefab house
VILLARSEL LE GIBLOUX
The 2-storey detached house in Villarsel le Gibloux is a prefabricated construction. The external envelope is made up of wall and roof modules with excellent heat insulation that were prefabricated at the factory. The ...
See the other products
Haring Engineering Ltd

Tempohousing prefab housing units can be used for creating bungalows and even a do-it-yourself package to build your own home.
See the other products
Tempohousing


The bungalow structures are constructed in monolithic three dimensional earthquake proof reinforced concrete, in order to be positioned simply on their base or on curbstones ensuring easy removal when required. The bungalows are equipped ...

bungalow type house
WILD 4,30x6,80m GLAMPING TENT MOBILE HOME
Area: 32 m²

Garage is graypants' award-winning debut architecture project. Set as a residential cabin, the building is a careful balance of preserving memory of the existing structure and repurposing materials extracted from it. New and old elements ...

prefab house
SPARROW HAWK
Area: 133 m²
Log is a natural material and therefore a healthy option for any house. Most of our larger models have been designed and produced with the customers wishes and needs in mind. Please check our models or an insight into ...
See the other products
Preloc oy Ltd


Area: 105 m²
Even though our work is based on customization and adaptability, we have nonetheless prepared a few models of prefabricated houses which can be chosen in their existing form or which can be used as a foundation to develop ...
See the other products
Rihter d.o.o.

See the other products
Bio house

Area: 99 m²
Abies is a single-storey family house for a family of three or four. This house requires minimum investment and minimum operational cost. The truss roof frame is designed to enable the utilization of ...
See the other products
K-Kontrol

HOLIDAY RESIDENCE STRUCTURES The latest trends that are reshaping tourism are favouring increased contact with nature on a more modest budget. The BONOMI PREFABRICATED BUILDING Group are responding with new prefabs that satisfy the latest ...
See the other products
Bonomi Prefabbricati & Edilizia di Geom. Delfo Bon

Low-energy single-level Domprojekt houses have a net area of 47m² - 169m², architecturally designed with mono-pitched, ridged, or multi-ridged roofs. All single level homes are foreseen for the construction ...
See the other products
Domprojekt

energy-efficient house
ELINA
Prefabricate Houses are building built with components like panels. Modular homes are created in sections, and then transported to the home site for construction and installation. These ...
See the other products
PESPA ALUMIN

Area: 100 m²
... single-family house built in 1956. The ground floor living area was 80 sq. m and the top floor living area was 58 sq. m. The parents of the young developers had transferred the property to them and they wanted to turn ...

prefab house
CLASSIC : LUBERON
Area: 824 ft²
The definition of Cozy Cottage comes from the Luberon. It includes an abundance of windows, allowing your home to be bright and pleasant all year round. The master bedroom is on the main floor, which opens to the living ...
See the other products
TIMBER BLOCK

Area: 79, 96 m²
With NOEM GO® building system, you can have a house built in just weeks. Its modular structures are designed to combine freely to respond to internal distribution requirements, and to adapt to your plot's limitations. NOEM ...
See the other products
Noem

See the other products
ECOMURS

prefab house
JURMALA, LATVIA
... should consider the WWL HOUSES timber frame Building System: WWL Houses has developed well proven know how to factory engineer high quality timber frame houses on a large scale. This ...
See the other products
WWL Houses

Area: 90 m²
Compact one-storey private home Total area: 89,6 m² Living area: 79 m² Number of storeys: 1 Number of rooms: 3 1 terrace: 10,6 m² Heating type: of your choice Compact house with a convenient layout ...
See the other products
Nordic Homes

... large windows create bold and beautiful features of our houses. Such architectural design not only attracts with its originality, but also complements the natural landscape that surrounds the house.
See the other products
Lumi Polar

Area: 193 m²
Diana is a stylish one-storey log house, well suited for a family with 2 children or anyone who values comfort and functionality. The house has a roomy entry and a separate wardrobe for outerwear. ...
See the other products
PALMATIN Ltd.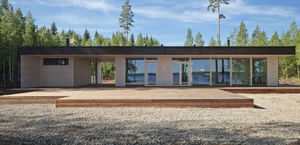 prefab house
PLUSVILLA 118
Area: 118 m²
In 2011, Plusvilla 118 was selected the second best vacation home in the Holiday Housing Fair held at Mäntyharju, Finland, and it was the best among the newly constructed vacation homes. The fair visitors were especially ...
See the other products
Polar Life Haus