The Online Architecture and Design Exhibition

Area: 34 m² - 57 m²
The iHouse system, is based on its basic unit, which is extremely flexible, in order to offer infinite combinations that can satisfy your every desire. The following suggestions are some of the most popular ones, but without limiting ...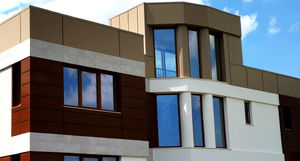 ... thermal bridges (zero mould, zero condensation, zero bacteria). • Construction adapted to specific purposes (passive house, zero energy house, office or apartment building, warehouse with special conditions, ...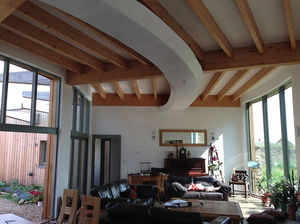 passive house
THE ROUNDHOUSE by Architecture AA
Touchwood Homes designed, supplied and erected the complex glulam frame for the Roundhouse, from an initial conceptual design from the client's architect. Being such as unusual design the home has been ...
See the other products
Touchwood Homes

Area: 41 m²
... pefc&fsc". Cladding, flooring and furniture in thermo-treated ash, copper roofing, windows and doors with low transmittance, home automation and engineering solutions evolved co-generation.
See the other products
LEGNOLANDIA

See the other products
Barra&Barra

prefab house
TUNTURI : 981
Scandinavian design at its finest. The impressive glass front makes the landscape a part of your everyday life. Tunturi Collection is one of the most popular collections of Artichouse. The feel of spaciousness is in a league of its own ...
See the other products
Artic House

prefab house
GERARD-KAYZER by Laurent Cominelli
See the other products
Artbois SA

container house
STEEL STRUCTURE VILLAS
Light steel structure villas are easy to build and beautiful. Construction is environmentally friendly, energy efficient and economical; more than 90% of the materials can be recycled.
See the other products
Union Living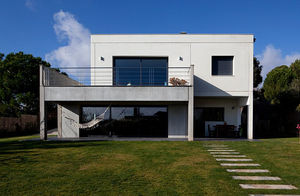 ... distribution modules. Modern design, functional design These contemporary-style houses offer a large degree of modularity for the interiors. We build prefabricated homes with a modern, contemporary ...
See the other products
HORMIPRESA

Log cabins are natural products that provide us with high-quality living. They serve various purposes, either as a living space, a holiday home, tourism facility, mobile home, garden shed, etc. We make all our cabins from laminated pieces ...
See the other products
Veko Maison

bungalow type house
ZM-60
See the other products
Z-MODULE Ltd.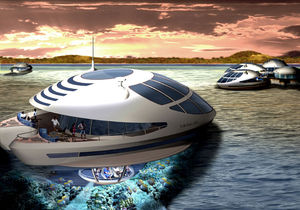 floating house
TRILOBIS 65 by Giancarlo Zema
... 3.0 metres below sea level, completely submerged, there is the underwater observation globe. In high resistant acrylic, it houses six seating places, connected with computers and special software which allows the inhabitants ...
See the other products
SemiSubGeneration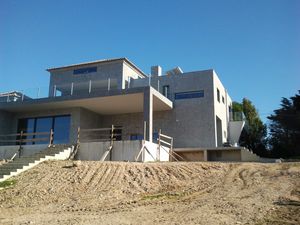 See the other products
IBS Distribution

This wooden House has magnificent concept with a good example of perfect notion, contemporary architecture for those who love the contemporary plan. Extremely well insulated and perfect for permanent living. Uses a ...
See the other products
Namas B.V.

Contemporary style one level Designer home studied by our experts designers. Square feet maximized. Functional, comfortable and luminous living areas. Loft style. Modern and linear lay-out. Contemporary kitchen. Modern ...
See the other products
Maisons Laprise

... connected to the landscape, this model prefab is a pioneer for green off-the–grid housing in the region. The 2150 sq ft 2-story home is constructed with structural insulated panels (SIPs). The Big Sur PreFab introduces ...
See the other products
OMD office of mobile design

NATUR-A, this breathtakingly beautiful contemporary home, with its pure lines and zen-like ambiance, is designed to promote a feeling of personal balance and well-being in tune with nature.
See the other products
Industries Bonneville

Area: 82 m²
... has developed a range of designs for potential house-owners to choose from. The designs have been made to be as varied as possible from one another and are just as suitable for the owner of a new log house ...
See the other products
Dores Fabrika

floating house
WATERNEST 100
Area: 100 m²
... photovoltaic panels capable of generating 4 kWp which are used for the internal needs of the floating house. The interior of WaterNest 100 floating house can include a living room, dining area, bedroom, ...

... efficiency, acustics,) Bioclimatic and sustainable behavior The construction of a house with bioclimatic behavior, gives the maximum comfortability for living inside the house. By fulfilling this goal ...
See the other products
Pujol

modular house
HARSEWINKEL
See the other products
HUTTEMANN WISMAR GMBH&CO.KG

Roosi is a classical family house. Upon changing the planning, the house can be made suitable for a family with four, five as well as six members. The bottom floor is rather meant for grown-ups, whereas ...
See the other products
SEVE EHITUSE AS

Prefabricated constructions constitute the main field of activity of Vefa Holding. Vefa produces solution in areas ranging from individual, social and mass housing to social facility buildings such as school, hospital, from prestigious ...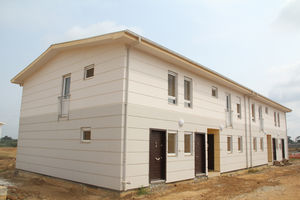 prefab house
ANGONDJE - GABON
Central African country of Gabon has selected the Steelife for its urban transformation project. Mass housing project, which is being carried out on Angondje region of the capital city of Libreville that has been allocated for the Housing ...
See the other products
Steelife

Round log house is the most convenient and most comfortable building construction for human living from ancient times till today. The world knows many great monuments of wooden architecture in Europe and Asia. These wooden ...
See the other products
The maharaja log homes pvt.ltd