How to choose this product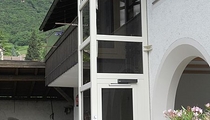 A hydraulic elevator is an excellent choice for buildings of modest height. Unlike traction types, it requires no overhead machine room since the power components can be placed anywhere, even in the basement. The absence of a counterweight also saves space. It provides safe, comfortable movement between floors and offers various loading options.
Technologies
An electric motor drives a hydraulic pump which actuates one or more pistons in a cylinder. Direct drive, or holed systems require a piston pit nearly as deep as the height of the shaft. Hole-less systems require no pit because the pistons are installed alongside the shaft.
Advantages
- Ease of operation
- Saves space
- Versatility