How to choose this product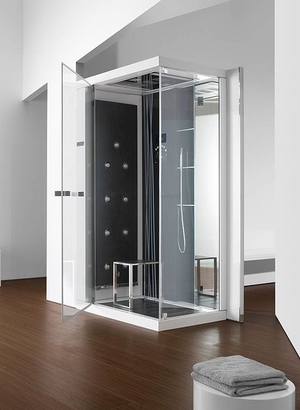 A hydromassage shower stall includes standard shower fixtures and body-massage water jets with adjustable water temperature, usually thermostatically controlled. It may be built-in or freestanding.
Applications
Optional features include a power shower, steam or sauna function, built-in shelves and seating.
Technologies
These units are thermostatically controlled. They may have an anti-scalding safety device in case the cold water supply fails. A system requiring a certain minimum pressure to function may need a pressure equalizing pump, a negative shower head pump or other regulating device. Some hydromassage showers recycle water, reducing consumption.
How to choose
Choice of a compact or a spacious design will depend on the space available in the bathroom. If water mains pressure is insufficient, complementary equipment, such as an equalizing pump, will be needed. Consider the unit's water and power consumption, and its compatibility with the electrical supply and the boiler.

Possible additional features include a built-in seat and shelves, multiple programs and sauna or steam-room function. Durability, ease of use and maintenance, stylistic compatibility with existing bathroom elements and the details of guarantees or warranties are other important factors.
Advantages
- Good for health
- Makes showering a pleasure
Disadvantages
- High water consumption
- Costly
- May require a certain water pressure