How to choose this product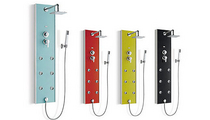 A hydromassage column, or panel combines all the essential shower massage elements (i.e., pipe work, thermostats and water jets, etc.) into one vertical unit. Wall-mounted or freestanding, it replaces the existing shower head.
Applications
In contrast to a hydromassage cabin, these units require no separate enclosure. They can be installed in existing spas and bathrooms, whose walls form the shower enclosure. They also can be inserted into some stall showers. However, they have water jets on only one side, whereas some hydromassage cabins include water jets on all sides.
Technologies
The column is often thermostatically controlled and may need a certain minimum pressure to function correctly. This may require the addition of extra devices, such as a pressure equalizing pump and a negative shower head pump.
How to choose
Determine how the column will be fixed to the wall or floor and attached to preexisting plumbing. Ensure that column installation leaves enough space in the shower for comfortable movement.

Verify any special requirements (e.g., minimum water pressure) and the need for extra equipment to function properly. Other factors and options include the number of jets, a hand shower, outlets, programmable sequences and a thermostat failsafe device to prevent scalding.
Advantages
- Can be used with some existing stalls
- Enclosure may be changed separately
Disadvantages
- May require separate enclosure
- Water jets on one side only