The Online Architecture and Design Exhibition

pendant lamp
LATTE : LP-360
... configured diffuser options or opal white acrylic. The floating canopy and accents provide a bi-color match for the sconces. Incandescent and fluorescent lampings are offered.
See the other products
Manning Lighting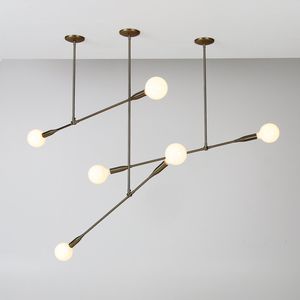 A single light will transform a space. Several will define it. The only limit is your imagination. Inspiration | Shimmering branches of sea kelp. Method | The elegant arms of the Sorenthia are comprised of a combination of custom ...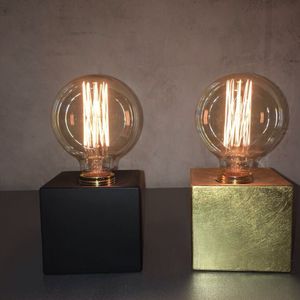 floor-standing lamp
ELEGANNIE
... fixture. The lamps are available in 3 variations: with a foot switch, a LED multi-foot dimmer or a LED multi-hand dimmer. The dimmers are suited for incandescent bulbs ...
See the other products
FRAUMAIER

floor-standing lamp
FUSE FLOOR by Note Design Studio
new edition of the Fuse pendant lamp: floor. In ceramic and available in the new colors of the 2014 collection. The tactility of the materials plays an essential role mixed with the warm glow created within each cylindrical ...

See the other products
wa. De. Be.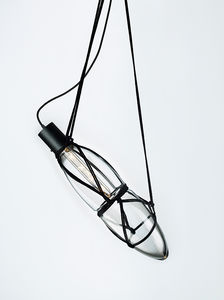 Shibari is not just a technique of tying up object with ropes, it is a way of communication within a hidden system of lines and loops. The Japanese call it Kinbaku: the beauty of tight binding.
See the other products
BOMMA

Body: DIE CAST ALUMINIUM Diffuser: POLYCARBONATE TRASPARENT Bulb: Non inclusa
See the other products
paber srl

The pendant out of the CARREE series offers a chrome-coloured round suspension and 24 metal/acrylic strings. These bring a touch of exclusivity inside your tastefully furnished rooms.
See the other products
WOFI Leuchten Wortmann & Filz

pendant lamp
THE ARIEL by Ivan Lolli e Mario Memmoli
... L:110.3in x D:5.9in x H:15.8in L:118.2in x D:5.9in x H:7.9in MATERIALS: Suspension lamp in Italian crystal Bohemia-cut. Structure: plated metal. Light: Incandescent / eco-halogen. ELECTRICAL SPECIFICATIONS: Light: ...
See the other products
Atelier Courbet

Suspension lamp made of white methacrylate. Incandescent or fluorescent compact sources Use tubular lamp. Chance to mount fluorescent lamp
See the other products
Lucifero's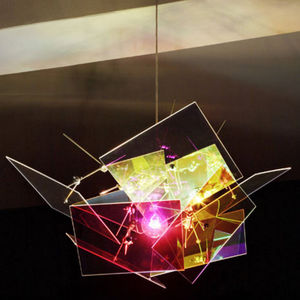 pendant lamp
4D by Ben Wirth
One-off, dichroic panels, incadescent bulb 500 watts. Frame made of stainless steel.

pendant lamp
EPERARA-SIAPIDARA : S.A
... . H: 15 cm aprox. One single lamp includes: One lampshade, it's electrical installation, 1.5 meters of coloured textile cable and a rosette in phosphated finishing. E14 lamp holder. Max. 25W. Includes ...
See the other products
Petlamp Studio

pendant lamp
LA LAMPE by Ida Linea Hildebrand
... The products are for indoor use and decorative purposes. FREE pendant, LIGHTING in metal / matt finish Vintage "MEGA" incandescent high quality light bulbs / warmlight All fixtures are delivered with textile cords ...
See the other products
Friends & Founders

... must be used with a CFL/ECO bulb with a maximum wattage of 25W. (A25W CFL bulb emits the equivalent light to a 100W incandescent bulb.)

floor-standing lamp
REVERSED PROCESS LAMP : UNIQUE
metal, polystyrene-foam, papier mâché, resin, lacquer 35 x 21 x 125 cm unique

pendant lamp
INTERIOR HANGING : ADIRONDACK F2884
Width/Diameter 18.00" Height 28.50" Backplate/Canopy/Base 5.00" Shade Material fabric shade Number of Lamps 6 Wattage 60w ea. Socket Type e12 candelabra base
See the other products
TROY LIGHTING

... geometrical ability of nature. Classic and contemporary, Honeycomb lamp is manufactured using fine materials such as mahogany wood, brass and aluminium. Lamp available as floor standing and table lamp.
See the other products
Climar, S.A.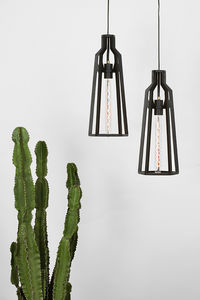 ... century, complete this look. The second series of Skeleton is made out of wood in order to reduce the objects' weight. These lamps are much bigger than the metal ones. The bulbs are chosen to match the fixtures size.

See the other products
Ferroluce

... desk lamp features attractive styling combined with warm fabric shade creating an inviting atmosphere. Ideal for complementing the most exquisite of bedrooms. The lamp features a universal E27 base suitable ...
See the other products
Orlight